English Major Undergraduates' Unsatisfactory Practicum Experience: A Case Study in Vietnam
How to Cite
Phuong, H. Y., Le, T. T., Ho, P. T., & Do, T. N. (2023). English Major Undergraduates' Unsatisfactory Practicum Experience: A Case Study in Vietnam. Vietnam Journal of Education, 7(1), 38–47. https://doi.org/10.52296/vje.2023.244
Abstract
Practicum is an excellent chance for university students to apply their knowledge in a real-world professional setting. Unlike other majors, Vietnamese English major students are generally not trained to work in a particular area. Therefore, the causes of their unsatisfactory experiences during practicum are different from those of students with other majors. This current study was designed with a mixed-methods approach to enlist the causes of English-majored students' unsatisfactory experiences during their practicum. Two hundred twenty-two interns majoring in English studies/linguistics responded to an open-ended question. The results showed that students' low self-efficacy and short internship duration were the two leading causes of unsatisfactory experiences during the practicum. Based on the qualitative data analyses, the students were found struggling to complete their assigned tasks as well as expected. Additionally, the short duration prevented them from gaining more professional experience. As a result, some implications for improving the program's quality are discussed in this paper. 
Downloads
Download data is not yet available.
References
Al-Momani, F. (2016). Challenges of practicum at college of education: Supervisors & students' teachers perspective. International Journal of Novel Research in Humanity and Social Sciences, 3(3), 45-52.
Allen, J. M., Ambrosetti, A., & Turner, D. (2013). How school and university supervising staff perceive the pre-service teacher education practicum: A comparative study. Australian Journal of Teacher Education (Online), 38(4), 108-128. https://search.informit.org/doi/10.3316/ielapa.706441655918002
Bencsik, A., Horváth-Csikós, G., & Juhász, T. (2016). Y and Z generations at workplaces. Journal of Competitiveness, 8(3), 90-106. https://doi.org/10.7441/joc.2016.03.06
Branscum, P., Haider, T., Brown, D., & Sharma, M. (2016). Using emotional intelligence and social support to predict job performance of health educators. American Journal of Health Education, 47(5), 309-314. https://doi.org/10.1080/19325037.2016.1203840
Bruss, K. V., & Kopala, M. (1993). Graduate school training in psychology: Its impact upon the development of professional identity. Psychotherapy: Theory, Research, Practice, Training, 30(4), 685-691. https://doi.org/10.1037/0033-3204.30.4.685
De Beer, J., Smith, U., & Jansen, C. (2009). 'Situated' in a separated campus–Students' sense of belonging and academic performance: A case study of the experiences of students during a higher education merger. Education as Change, 13(1), 167-194. https://doi.org/10.1080/16823200902944922
Deocampo, M. F. (2020). Issues and challenges of English language teacher-trainees' teaching practicum performance: Looking back and going forward. LEARN Journal: Language Education and Acquisition Research Network, 13(2), 486-503. https://so04.tci-thaijo.org/index.php/LEARN/article/view/243940
Dewhurst, Y., Ronksley-Pavia, M., & Pendergast, D. (2020). Preservice Teachers' Sense of Belonging During Practicum Placements. Australian Journal of Teacher Education, 45(11), 17-33 http://doi.org/10.14221/ajte.202v45n11.2
Edwards, M. (1993). What is wrong with practicum?: Some reflections. South Pacific Journal of Teacher Education, 21(1), 33-43. https://doi.org/10.1080/0311213930210105
Engstrom, D. W., Min, J. W., & Gamble, L. (2009). Field practicum experiences of bilingual social work students working with limited English proficiency clients. Journal of Social Work Education, 45(2), 209-224. https://doi.org/10.5175/JSWE.2009.200700080
Esposito, G., Freda, M. F., & Bosco, V. (2015). Examining perception of competency through practicum competencies outline. European Journal of Training and Development, 39(8), 700-720. https://doi.org/10.1108/EJTD-05-2015-0037
Fung, M. Y. (2005). A philosophy of teaching practicum: Construction of a personal theory of teaching and learning. Teacher Development, 9(1), 43-57. https://doi.org/10.1080/13664530500200240
Gault, J., Leach, E., & Duey, M. (2010). Effects of business internships on job marketability: the employers' perspective. Education and Training, 52(1), 76-88. https://doi.org/10.1108/00400911011017690
Gilstrap, J. B., & Collins, B. J. (2012). The importance of being trustworthy: Trust as a mediator of the relationship between leader behaviors and employee job satisfaction. Journal of Leadership & Organizational Studies, 19(2), 152-163. https://doi.org/10.1177/1548051811431827
Grant-Smith, D., & Gillett-Swan, J. (2017). Managing the personal impact of practicum: Examining the experiences of graduate diploma in education students. In J. Nuttall, A. Kostogriz, M. Jones, J. Martin, (Eds). Teacher education policy and practice (pp. 97-112). Springer, Singapore. https://doi.org/10.1007/978-981-10-4133-4_7
Gujjar, A. A., Arshad, H. M., & Ramzan, M. (2010). An appraisal of the practicum-finding the gaps between theory and practice in teacher training institutions in Pakistan. Language in India, 10(11), 232-253.
Hansen, J. C. (1965). Trainees' expectations of supervision in the counseling practicum. Counselor Education and Supervision, 4(2), 75-80. https://doi.org/10.1002/j.1556-6978.1965.tb02183.x
Hatcher, R. L., Wise, E. H., Grus, C. L., Mangione, L., & Emmons, L. (2012). Inside the practicum in professional psychology: A survey of practicum site coordinators. Training and Education in Professional Psychology, 6(4), 220-228. https://doi.org/10.1037/a0029542
Hoi, H. T. (2020). The Status of Using English at Work by Vietnamese Students after Graduating from University. Universal Journal of Educational Research, 8(11), 5318-5321. https://doi.org/10.13189/ujer.2020.081133
Kickul, J. (2001). When organizations break their promises: Employee reactions to unfair processes and treatment. Journal of Business Ethics, 29(4), 289-307. https://doi.org/10.1023/A:1010734616208
Kroon, N., & Franco, M. (2022). Antecedents, processes and outcomes of an internship program: an employer's perspective. Journal of Applied Research in Higher Education, 14(2), 556-574. https://doi.org/10.1108/JARHE-09-2020-0315
Krumboltz, J. D., & Worthington, R. L. (1999). The school‐to‐work transition from a learning theory perspective. The Career Development Quarterly, 47(4), 312-325. https://doi.org/10.1002/j.2161-0045.1999.tb00740.x
Le Cornu, R. J. (2012). School co-ordinators: Leaders of learning in professional experience. Australian Journal of Teacher Education (Online), 37(3), 18-33. https://doi.org/10.14221/ajte.2012v37n3.5
Linh, P. T. T., Van Thang, N., Thanh, H. T., Nguyet, H. T. M., & Thao, P. V. P. (2020). Teaching practicum: The impacts on classroom management skills of novice lecturers. Ho Chi Minh City Open University Journal of Science-Social Sciences, 10(1), 29-42. https://doi.org/10.46223/HCMCOUJS.soci.en.10.1.570.2020
Maidment, J., & Crisp, B. R. (2011). The impact of emotions on practicum learning. Social Work Education, 30(04), 408-421. https://doi.org/10.1080/02615479.2010.501859
National Association of College and Employers. (2009). Job Outlook 2009. www.naceweb.org
Nguyen, C. T. (2011). Challenges of learning English in Australia towards students coming from selected southeast Asian countries: Vietnam, Thailand and Indonesia. International Education Studies, 4(1), 13-20. https://doi.org/10.5539/ies.v4n1p13
Qian, D. D. (2009). Using English for workplace communication: A study of novice professionals. In V. K. Bhatia, W. Cheng, B. Du-Babcock, J. Lung (Eds). Language for Professional Communication: Research, Practice and Training, 270-297. City University of Hong Kong.
Renganathan, S., Karim, Z. A. B. A., & Li, C. S. (2012). Students' perception of industrial internship programme. Education and Training, 54, 180-191. https://doi.org/10.1108/00400911211210288
Setiya, K. (2008). Practical knowledge. Ethics, 118(3), 388-409. https://doi.org/10.1086/528781
Spezio, M., Peterson, G., & Roberts, R. C. (2019). Humility as openness to others: Interactive humility in the context of l'Arche. Journal of Moral Education, 48(1), 27-46. https://doi.org/10.1080/03057240.2018.1444982
Spooner-Lane, R., Tangen, D., & Campbell, M. (2007, July). When your first year is your final year: Changing perceptions of practicum through NESB pre-service teachers' eyes'. In Proceedings of the First Year Higher Education Conference. https://bit.ly/39MAqfX
Stolarski, A., Carlson, S., Oriel, B., O'Neal, P., Whang, E., & Kristo, G. (2020). Mentorship of surgical interns: are we failing to meet their needs?. Journal of Surgical Education, 77(5), 1037-1045. https://doi.org/10.1016/j.jsurg.2020.02.028
Tenny, S., Brannan, G. D., Brannan, J. M., & Sharts-Hopko, N. C. (2021). Qualitative study. In StatPearls [Internet]. StatPearls Publishing.
Tran, T. T. (2013). Limitation on the development of skills in higher education in Vietnam. Higher Education, 65(5), 631-644. https://doi.org/10.1007/s10734-012-9567-7
Umyati, A., Yanasari, S., Wahyuni, N., & Mariawati, A. S. (2022). Measuring the impact of practicum schedule and mental workload on stress levels in hybrid learning: A case study in Physics practicum. Journal Industrial Servicess, 8(2), 158-163. http://doi.org/10.36055/jiss.v8i2.17312
Wilson, A., & Huynh, M. (2020). Mentor–mentee relationships as anchors for pre service teachers' coping on professional placement. International Journal of Mentoring and Coaching in Education, 9(1), 71-86. https://doi.org/10.1108/IJMCE-04-2019-0052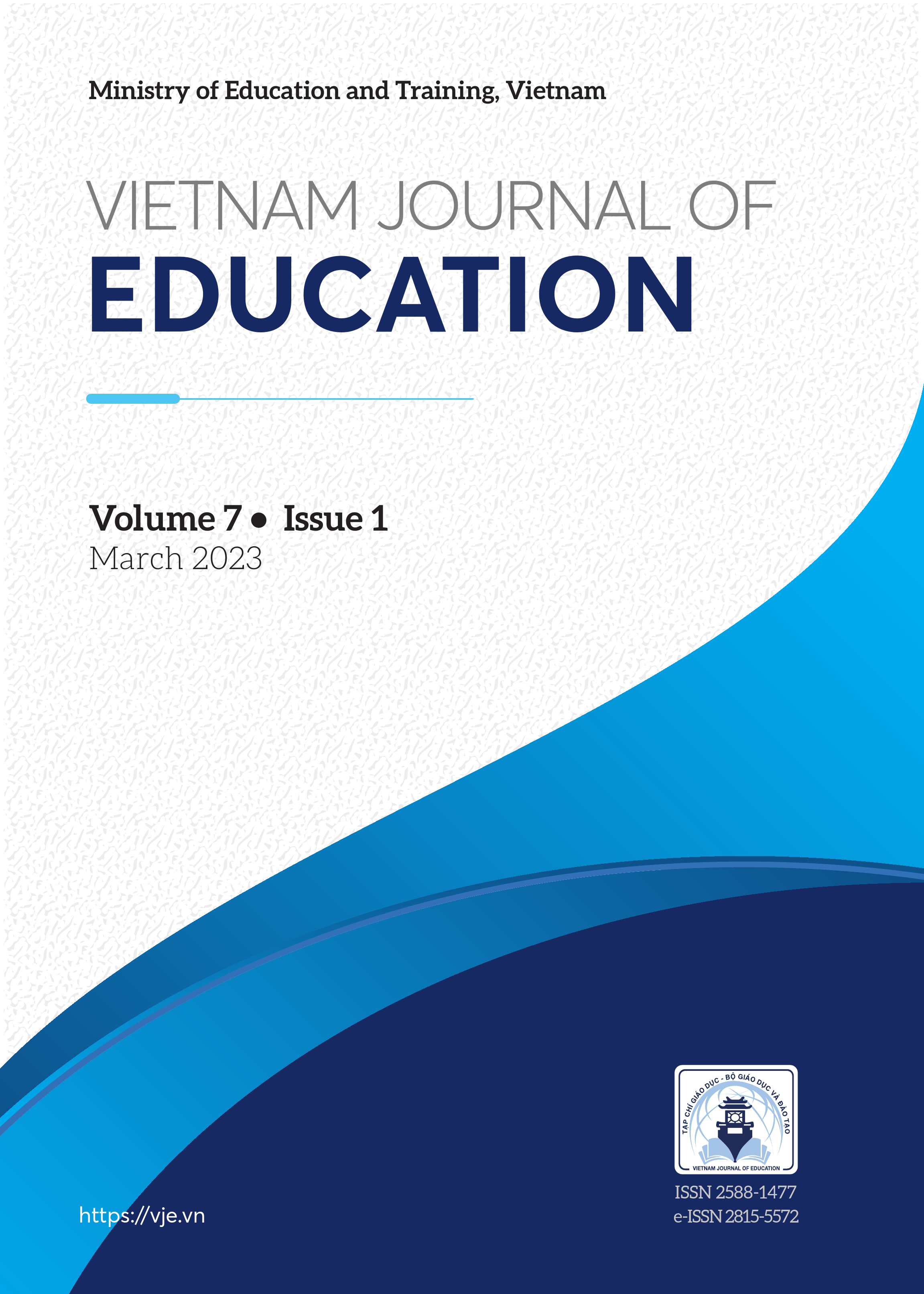 Downloads
How to Cite
Phuong, H. Y., Le, T. T., Ho, P. T., & Do, T. N. (2023). English Major Undergraduates' Unsatisfactory Practicum Experience: A Case Study in Vietnam. Vietnam Journal of Education, 7(1), 38–47. https://doi.org/10.52296/vje.2023.244
Section
Original Articles
License
Copyright (c) 2023 Vietnam Journal of Education
This work is licensed under a Creative Commons Attribution 4.0 International License.