Storytelling to Enhance Speaking and Listening Skills for English Young Learners: A Case Study at Language Centers in Binh Duong Province
How to Cite
Tran, D. T. (2021). Storytelling to Enhance Speaking and Listening Skills for English Young Learners: A Case Study at Language Centers in Binh Duong Province. Vietnam Journal of Education, 5(2), 29–36. https://doi.org/10.52296/vje.2021.64
Abstract
With the availability of English teaching and learning facilities in most schools as well as in English language centers in Vietnam nowadays, storytelling is believed to be one of the most suitable techniques to improve young learners' communicative competences; therefore, it should be further investigated and promoted. With the aim of fully exploiting storytelling in Vietnamese English language teaching contexts, the research is designed to discuss and evaluate its effectiveness as a teaching technique to enhance young learners' speaking and listening skills - a well-matched couple of oral competences. Conducted with mixed research methods through the use of questionnaires, interview and observation, the outcomes, conclusions, theories as well as evaluations and recommendations put forward in the study are of great validity and reliability. Based on the rationale of this teaching technique, some models and activities for teaching demonstration are designed and carried out in real language environments in order to evaluate its advantages as well as disadvantages. From what have been discovered, the study can serve as a reference for teachers who wish to enhance their students' listening and speaking skills by means of storytelling.
Downloads
Download data is not yet available.
References
Adrian, D. (1988). Teach English: A Training Course for Teachers. New York: Cambridge University Press.
Amie Sexton (2017). Crafting the Image and Telling the Story - A Cross-cultural Analysis of Winery Identity in France and Australia. The University of Melbourne.
Andrew, W. (1995). Storytelling with Children. Oxford: Oxford University Press.
August, D. & Shanahan, T. (2006). Developing Literacy in Second Language Learners: Report of the National Literacy Panel on Language Minority Children and Youth. Mahwah, NJ: Lawrence Erlbaum Associates. https://doi.org/10.1080/10862960903340165
Brakke, K., & Houska, J. A. (2015). Telling stories: The Art and Science of Storytelling as an Instructional Strategy. Retrieved from the Society for the Teaching of Psychology website: http://teachpsych.org/ebooks/tellingstories.html
Caine, R., & Caine, G. (1994). Making Connections: Teaching and the Human Brain. Menlo Park, CA: Addison-Wesley.
Canlibeka, N. (2019). Exploring the Effects of Digital Storytelling on Young Learners' Motivation, Vocabulary Learning and Retention in Foreign Language Teaching. Master of Arts in ELT, Anada: Cucurova University.
Chaney, A. L., & Burk T. L. (1998). Teaching Oral Communication in Grades K-8. Boston: Allyn&Bacon.
Cherry, R. W. (2017). The Importance of Story and Storytelling in the Classroom. Our Place in the Universe, 46(2), 50-55.
Egan, K. (1992). Imagination in Teaching and Learning - The Middle School Years. University of Chicago Press.
Groce, R. D. (2004). An Experiential Study of Elementary Teachers with the Storytelling Process: Interdisciplinary Benefits Associated with Teacher Training and Classroom Integration. Reading Improvement, 41(2).
Gibson, S. (1990). The Power of Storytelling. Accessed from https://pdf4pro.com/view/1-the-power-of-storytelling-in-the-classroom-37676d.html
Hornby, A. S. & Wehmeier, S. (2000). Oxford Advanced Learner's Dictionary (6th ed.). Oxford: Oxford University Press.
Khodabandeh, F. (2018). The Impact of Storytelling Techniques through Virtual Instruction on English Students' Speaking Abilitiy. Teaching English with Technology, 18(1), 24-36.
Lucarevschi, C. R. (2016). The Role of Storytelling in Language Learning: A Literature Review. Working Papers of the Linguistics Circle, 26(1), 24-44.
Mandler, J.M. & Johnson, N.S. (1977). Remembrance of Things Parsed: Story Structure and Recall. Cognitive Psychology, 9(1), 111-51. https://doi.org/10.1016/0010-0285(77)90006-8
Mutiarani and Izzah (2015). The Power of Storytelling in Teaching English to Young Learners. University of Muhammadiyah, Japan.
Octaviana, D. W. (2017). Teaching English to Young Learners. Journal of English Teaching and Research, 2(2), 124-133. https://doi.org/10.29407/jetar.v2i2.808
Prince's (1973). A Grammar of Stories. The Hague: Mouton.
Schumacher, S. & McMillan, J. H. (1993). Research in Education: A Conceptual Introduction (3rd edition). Harper Collins College Publishers.
Sever, T. (2014). An Investigation into the Impact of Digital Storytelling on the Motivation Level of Students. Unpublished MA Thesis, 1-142. Çanakkale, Turkey: Çanakkale Onsekiz Mart University, Institute of Education Sciences.
Shank, M. J. (2006). Teacher Storytelling: A Means for Creating and Learning within a Collaborative Space. Teaching and Teacher Education, 22(6), 711-721.
U.S. Department of Education (1986). What Works about Teaching and Learning. Accessed from https://mazgeenlegendary.wordpress.com/storytelling-in-education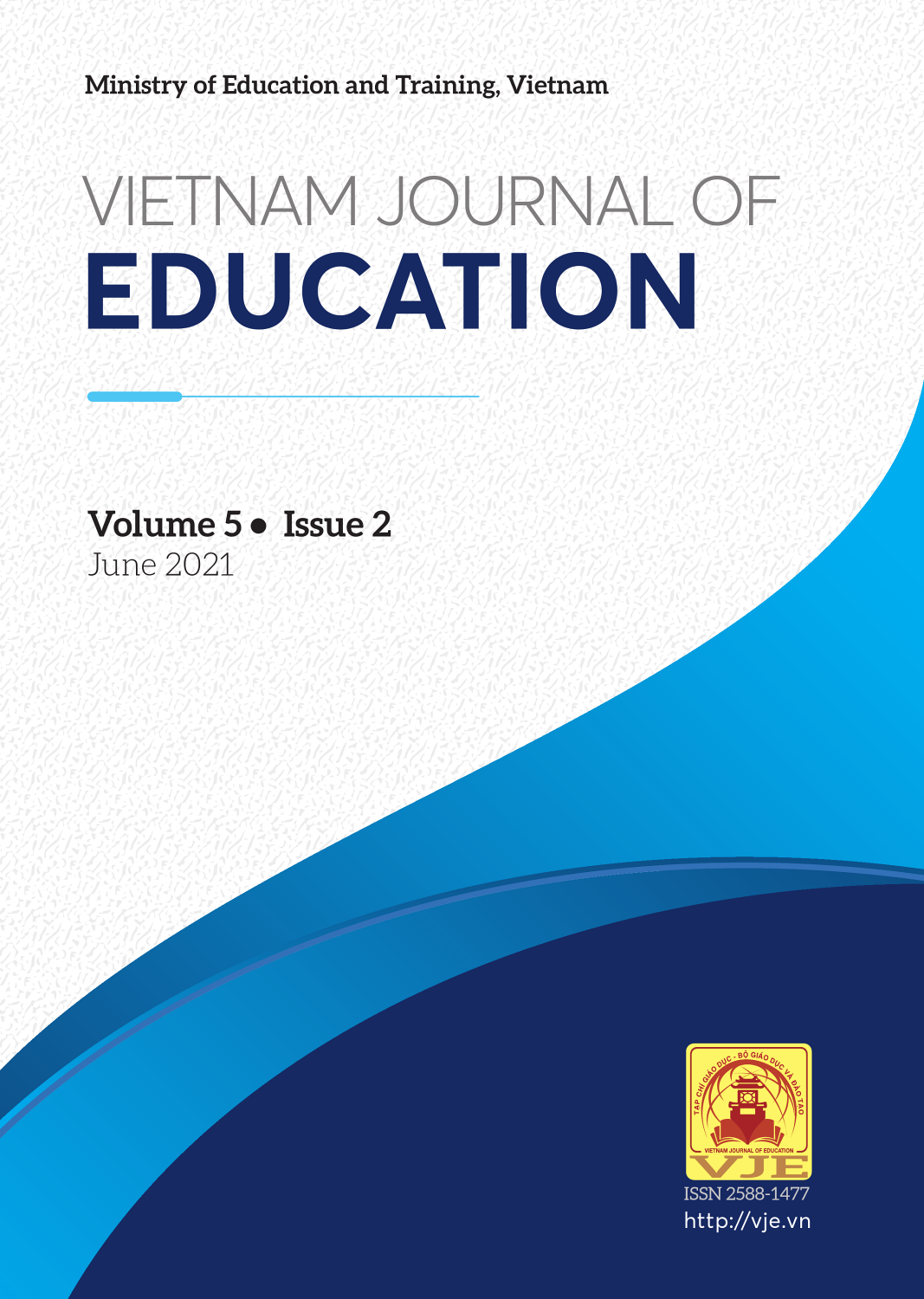 Downloads
How to Cite
Tran, D. T. (2021). Storytelling to Enhance Speaking and Listening Skills for English Young Learners: A Case Study at Language Centers in Binh Duong Province.
Vietnam Journal of Education
,
5
(2), 29–36.
https://doi.org/10.52296/vje.2021.64
Section
Original Articles
License
Copyright (c) 2021 Vietnam Journal of Education
This work is licensed under a Creative Commons Attribution 4.0 International License.