Challenges in Speaking Classrooms among Non-English Majors
How to Cite
Trinh, N. B., & Pham, D. T. T. (2021). Challenges in Speaking Classrooms among Non-English Majors. Vietnam Journal of Education, 5(2), 37–42. https://doi.org/10.52296/vje.2021.52
Abstract
As a great challenge to most English learners, speaking skills have aroused the interest of numerous researchers in many countries where English is taught as a foreign language. This study aimed to investigate some difficulties that students faced in speaking classrooms. A group of 57 participants at Tra Vinh university was selected to complete the questionnaires to find out students' speaking problems from psychological and linguistic perspectives and 12 of them participated in the face-to face interviews. The results from the questionnaire revealed that non-English majors encountered more linguistic difficulties than psychological ones. Also, students' psychological problems identified includes: pressure to perform well, being overpowered by more competent students, fear of making mistakes in front of the class and fear of criticism or losing face. The linguistic difficulties are lacking vocabulary and topical knowledge, being uncapable of arranging ideas logically, insufficient sentence formation skills and inappropriate vocabulary. The findings from the interview also showed that learners encountered more linguistic difficulties. Based on the findings above, some possible solutions are suggested to assist students in improving their speaking skills when acquiring English.
Downloads
Download data is not yet available.
References
Al Hosni, S. (2014). Speaking difficulties encountered by young EFL learners. International Journal on Studies in English Language and Literature (IJSELL), 2(6), 22-30.
Abdullah, K. I., & Abdul Rahman, N. L. (2010). A study on second language speaking anxiety among UTM students. A Study on Second Language Speaking Anxiety among UTM Students, 1-6.
Alam, Q., & Bashiruddin, A. (2013). Improving English oral communication skills of Pakistani public school's students. International journal of English language teaching, 1(2), 17-36.
Amini, N. S., Mojallal, C., Karimpour, S. & Alizadeh, S. (2014). Anxiety and Speaking English as a Second Language among Iranian English Major Students of Payame Noor University. J. Educ. Manage. Stud., 4(4), 872-876.
Fauziati, E. (2010). Teaching English as a foreign language (TEFL). https://doi.org/10.4324/9780203432860-79
Keong, Y. C, Ali, A. I. &Hameed, F. W. (2015). Speaking competence if Iraqi EFL undergraduates of Garmiyan university. International Journal of Education and Research, 3(5), 157-170.
Gan, Z. (2012). Understanding L2 speaking problems: Implications for ESL curriculum development in a teacher training institution in Hong Kong. Australian Journal of Teacher Education, 37(1), 3.
Nunan, D. (1991). Language Teaching Methodology. A Textbook for Teachers. New York, Pentice Hall Intermediate (UK) Ltd.
Nguyen, H. T. & Tran, N. M. (2015). Factors affecting students' speaking performance at Le Thanh Hien high school. Asian Journal of Educational Research, 3(2), 8-23.
Othman, F. H. M. A. & Shuquair, K. M. (2013). The impact of motivation on English language learning in the Gulf States. International Journal of Higher Education, 2(4), 123-130.
Pathan, M., Aldersi, Z. & Alsout, E. (2014). Speaking in their Language: An Overview of Major Difficulties Faced by the Libyan EFL Learners in Speaking Skill. International Journal of English Language & Translation Studies, 2(3), 96-105.
Richards, J. C., & Renandya, W. A. (Eds.). (2002). Methodology in language teaching. Cambridge: Cambridge University Press.
Riyaz, H. & Mullick, A. P. (2016). Problems in learning English Speaking Skill: A study of Higher Secondary Students in Srinagar, India. International Journal of Interdisciplinary and Multidisciplinary Studies (IJIMS), 3(2), 59-69.
Tobias, S., & Everson, H. T. (1997). Studying relationship between affective and meta cognitive variables. Anxiety, Stress, and Coping, 10, 5981.
Ur, P. (2000). A course in Language Teaching: Practice and Theory. Cambridge: Cambridge University Press.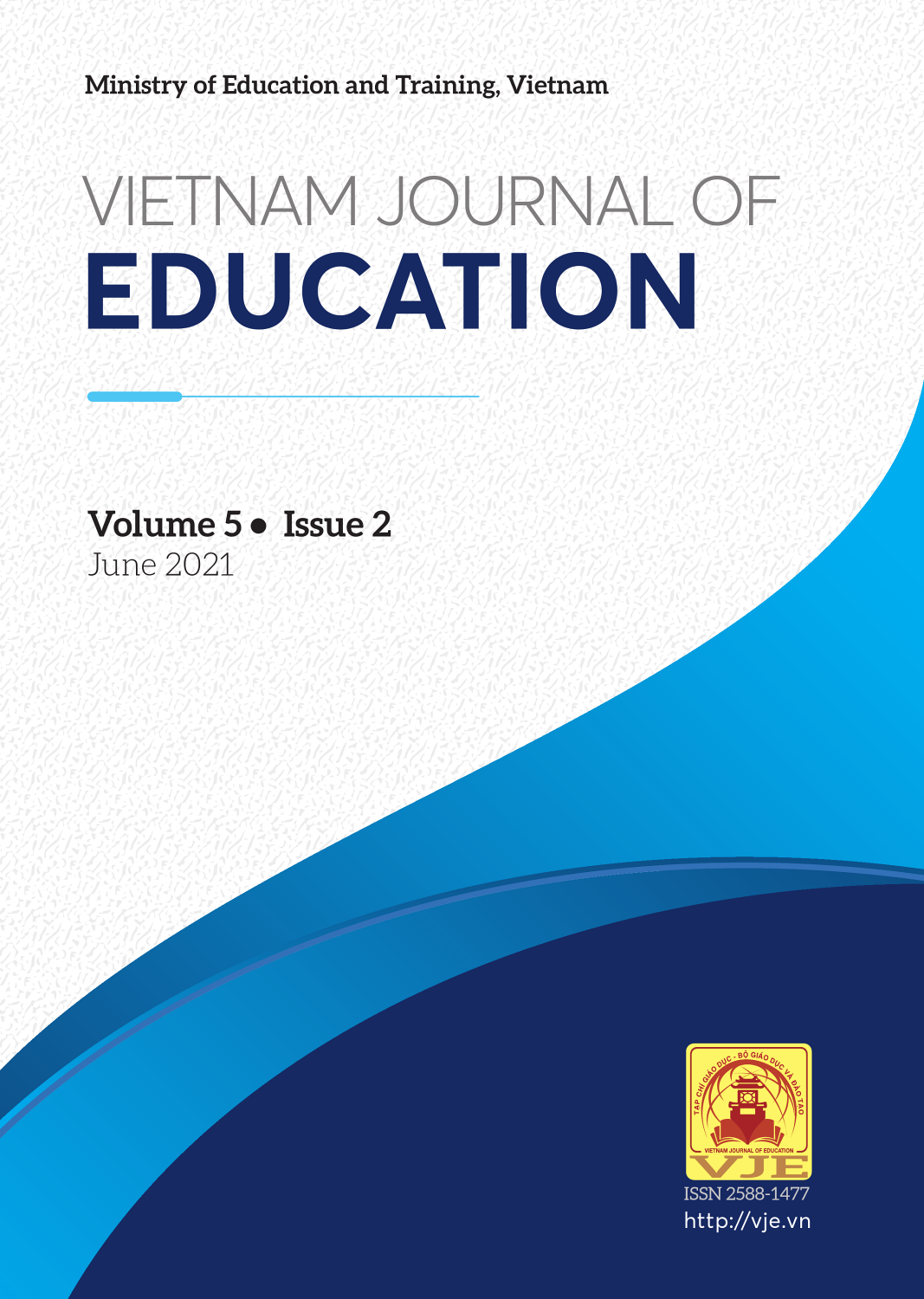 Downloads
Section
Original Articles
License
Copyright (c) 2021 Vietnam Journal of Education
This work is licensed under a Creative Commons Attribution 4.0 International License.