Integrating Ecological Lifestyle Education into Teaching Citizen Education at Secondary School in Vietnam - A Content Perspective
How to Cite
Tieu, H. T. M. (2021). Integrating Ecological Lifestyle Education into Teaching Citizen Education at Secondary School in Vietnam - A Content Perspective. Vietnam Journal of Education, 5(1), 44–51. https://doi.org/10.52296/vje.2021.31
Abstract
Ecological lifestyle and ecological lifestyle education for students has recently been a concerned issue as unsustainable development leads to countless negative effects on the environment. Based on document analysis and theoretical framework, the author aims at generalizing several theories of ecological lifestyle, ecological lifestyle education and proposing certain contents of ecological lifestyle that can be integrated into teaching the Citizen Education subject at Junior Secondary School in Viet Nam for both the current curriculum and the new curriculum applied from 2018. The practical significance of this research paper is to propose teaching contents for integrating ecological lifestyle together with lists of textbook sessions suitable for integrating these contents in the current curriculum and the 2018 curriculum. These are valuable suggestions for teachers during organizing teaching activities.
Downloads
Download data is not yet available.
References
Akenji et al. (2016). A framework for shaping sustainable lifestyles: Determinants and Strategies. United Nations Environment Programme, pp.3.
Bui Hien (2001). Education Dictionary. Ha Noi, Vietnam: Polytechnic Dictionary Publisher.
C&E (Center of Developing Community Initiatives and Environment) (2015). Report on investigation of Vietnamese students' ecological lifestyle, pp.11.
Do Huong Tra (editor-in-chief, 2015). Integrated teaching - Developing students' competence. Ha Noi, Vietnam: University of Education Publishing House.
Grušovnik, T., Arzenšek, A. (2014). Experiential education against environmental denial in environmental ethics education: a case study. Journal of Education Culture and Society, 1. doi:10.15503/jecs20141-99-109
Karatas, A. (2014). Environmental Ethics Education as a Tool for the Prevention of Environmental Problems in the Community. European Journal of Sustainable Development, 263-268, ISSN: 2239-5938. doi:10.14207/ejsd.2014.v3n4p263
Krasny, M. E. & Tidball, K. G. (2009). Applying a Resilience Systems Framework to Urban Environmental Education. Environmental Education Research, 15, 465-482.
Lake, K. (2004). Integrated Curriculum. School Improvement Research Series Close up, 8(16), http://www.nwrel.org/scpd/sirs/8/c016.html Accessed 16/01/06.
Marx K. & Engels F. (1994). Full Volumes, Vol. 20. Ha Noi: National Politics Publishing house.
Ngo Thi Hai Yen (2016). Training on enhancing awareness, knowledge, skills of environment protection education for student-teachers at Hanoi National University of Education (in terms of Biology, Geography, Citizen Education). Ministry level Scientific and Technological Duties, B2015-17-01 MT.
Ngo Thi Ngoc Mai & Tran Trung Ninh (2014). Developing students' science competence from promoting integrated teaching competence for Pedagogical Chemistry teachers and students. Proceedings of National Conference on Enhancing competence of training teachers teaching integrated Natural Sciences at Hanoi National University of Education, pp.102-108.
Nguyen Huu Chau (2006). Fundamental issues on curriculum and teaching process. Ha Noi, Vietnam: Education Publisher.
Nguyen L., Nayak R., Watkins J. & Nguyen P. (2019). Drivers of social media disengagement: a study of young consumers in Vietnam, Young Consumers. Emerald Publishing Limited. https://doi.org/10.1108/YC-01-2019-0938
Nguyen Thi Thu Hang, Doan Thi Thanh Phuong (2004). Designing lectures by exploiting the contents of environment education in Geography textbooks. HNUE Journal of Science, 3, 28-133.
Pham Thi Quynh, Do Thi Quynh Mai, Bui Thi Thuy (2016). Integrating environment education in the session Oil, natural gases - Chemistry 9 at Junior Secondary School. HNUE Journal of Science, 61, 30-38.
Pham Viet Thang (2017). Integration of environment education in teaching the subject of Citizen Education at High School. HNUE Journal of Science, Educational Sci, 62(4), 158-164. doi:10.18173/2354-1075.2017-0068
Phan Thi Lac, Tran Thi Nhung, Dang Thi Oanh, Cao Thi Thang, Vu Anh Tuan (2008). Education of environment protection in Chemistry at High School. Ha Noi, Vietnam: Education Publishing house.
Tidball K. G. & M. E. Krasny (2010). Urban environmental education from a social-ecological perspective: conceptual framework for civic ecology education. Cities and the Environment, 3(1): article 11. http://escholarship.bc.edu/cate/vol3/iss1/11, pp.20.
UNEP (2015). Sustainable lifestyles and education. https://www.unenvironment.org/es/node/20883
UNEP (2018). One Earth Sustainable Lifestyles: Options and Opportunities. Paris: UN Environment, pp.6.
UNESCO (2002). Education for Sustainable Development. Retrieved November 3, 2007, from http://www.unesco.org/en/esd/
William E. Rees (2018). Ecological footprint, Source: Companion to Environmental Studies. Publisher Routledge in association with GSE Research.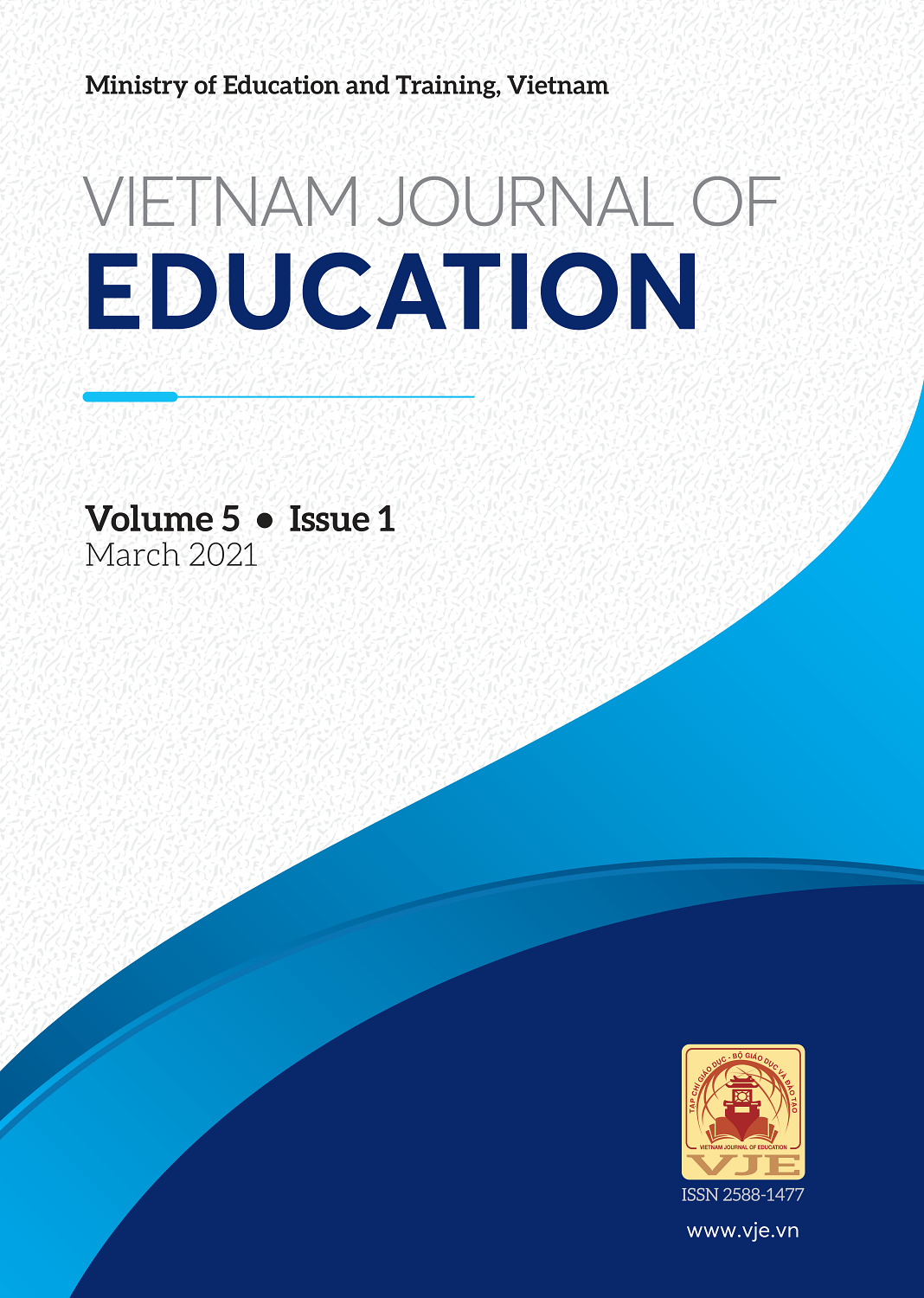 Downloads
How to Cite
Tieu, H. T. M. (2021). Integrating Ecological Lifestyle Education into Teaching Citizen Education at Secondary School in Vietnam - A Content Perspective. Vietnam Journal of Education, 5(1), 44–51. https://doi.org/10.52296/vje.2021.31
Section
Original Articles
License
This work is licensed under a Creative Commons Attribution 4.0 International License.