Understanding EFL students' use of listening strategies in watching English captioned movies
How to Cite
Nguyen, H. D. N. (2020). Understanding EFL students' use of listening strategies in watching English captioned movies. Vietnam Journal of Education, 4(2), 37–46. https://doi.org/10.52296/vje.2020.18
Abstract
Through the years, investigation into English captioned movies has been the subject of many studies in language teaching and learning. Most of these studies have found that listening strategies play a crucial part in enhancing students' listening skills. Focusing on the same subject but with a new perspective, this research aimed at exploring the frequency use of listening strategies in watching English captioned movies in five general English classes at Ho Chi Minh City Industry and Trade College (HITC). One hundred and fifty college freshmen participate in answering the questionnaire and twenty-five students in responding the semi-structured interview questions. The data gained from the questionnaire was analyzed by SPSS in terms of descriptive statistics and ANOVA test. The results of the study indicated that a vast number of students employed listening strategies at different levels of frequency in which the cognitive strategy was used more frequently than meta-cognitive and socio-affective strategies. The results further proved that there was no significant difference of non-English majors' listening strategies in watching English captioned movies in terms of majors.
Downloads
Download data is not yet available.
References
Bacon, S. M. (1992). Authentic listening in Spanish: How learners adjust their strategies to the difficulty of the input. Hispania, 75(2), 398-412.
Baltova, I. (1994). Multisensory language teaching in a multidimensional curriculum: The use of authentic bimodal video in core French. The Canadian Modern Language Review, 56(1), 32-48.
Başaran, H., & Köse, G. (2013). The Effects of Captioning on EFL Learners' Listening Comprehension. Procedia - Social and Behavioral Sciences, 70(1), 702-208.
Bidabadi, F. & Yamat, H. (2011). The relationship between listening strategies used by Iranian EFL freshman university students and their listening proficiency levels. English Language Teaching, 4(1), 26-32.
Bird, S. A. & Williams, J. N. (2002). The effect of bimodal input on implicit and explicit memory: An investigation into the benefits of within-language subtitling. Applied Psycholinguistics, 23(4), 509-533.
Blake, R. (2005). Bimodal CMC: The glue of learning at a distance. CALICO Journal, 22(3), 497-511.
Brown, S. (2006). Teaching Listening. New York: Cambridge University Press.
Campbell, A. (2016). Subtitling for Mission Accomplishment: An Experimental Study of the Effect of Subtitling as a Task on Listening Comprehension for Learners of Military English for Specific Purposes (Unpublished master's thesis). Pablo de Olavide University, Spanish.
Chen, K. T., Lee, I. Y., & Lin, C. (2010). EFL learners' uses of listening comprehension strategies and learning style preferences. The International Journal of Learning, 17(6), 245-255.
Chenoweth, N. A., Ushida, E., & Murday, K. (2006). Student learning in hybrid French and Spanish courses: An overview of Language Online. CALICO Journal, 24(1), 285-314.
Danan, M. (2004). Captioning and subtitling: Undervalued language learning strategies. Meta, 49(1), 67-77.
Dörnyei, Z. (2003). Questionnaires in second language research: Construction, administration, and processing. Mahwah, NJ: Lawrence Erlbaum.
Dousti, H. (2013). The effect of metacognitive listening strategy training on EFL learners' listening sub-skills performance. International Journal of Applied Linguistics & English Literature, 2(4), 50-55.
Duong, M. T., Tran, T. H. T & Tran, Q. T. (2019). Eleventh graders' actual use of English listening learning strategies at Duong Van Duong high school. VNU Journal of Foreign Studies, 35(1), 114-130.
Ellis, R. (1997). Second Language Acquisition. Oxford: Oxford University Press.
Flowerdew, J. & Miller, L. (2005). Second language listening: Theory and practice. Cambridge: Cambridge University Press.
Froehlich, J. (1988). German videos with German subtitles: A new approach to listening comprehension development. Die Unterrichtspraxis/Teaching German, 21(2), 199-203.
Garza, T. (1991) Evaluating the use of captioned video materials in advanced foreign language learning. Foreign Language Annals, 24(3), 239-258.
Gilakjani, A. P. & Sabouri, N. B. (2016). A study of factors affecting EFL learner's reading comprehension skill and the strategies for improvement. International Journal of English Linguistics, 6(5), 180-187.
Gildea, P., Miller, G. A., & Wurtenberg, C. L. (1990). Contextual enrichment by videodisc. In Don Nix & Rand Spiro (Eds.). Cognition, education, Multimedia: Exploring ideas in high technology. Hillsdale, NJ, Lawrence Erlbaum Associates.
Graham, S. & Santos, D. (2015). Strategies for second language listening: Current scenarios and improved pedagogy. Basingstoke: Palgrave.
Griffths, C. (2010). Strategies of successful language learners. Journal of English Language Studies, 1(3), 1-10.
Harmer, J. (2007). The Practice of English Language Teaching. Harlow: Longman.
Holden, W. R. (2004). Facilitating Listening Comprehension: Acquiring Successful Strategies. Bulletin of Hokuriku University, 28, 257-266.
Liu, H. J. (2008). A study of the interrelationship between listening strategy use, listening proficiency levels, and learning style. RARECLS, 5, 84-104.
Lonergan, J. (1984). Language and languages; study and teaching; audio-visual aids. Cambridge: Cambridge University Press.
Markham, P. (1989). The effects of captioned television video tapes on the listening comprehension of beginning, intermediate and advanced ESL students. Educational Technology, 29(10), 38-41.
Markham, P., Peter, L., & McCarthy, T. (2001). The effects of native language vs. target language captions on foreign language students' DVD video comprehension. Foreign Language Annals, 34(5), 439-445.
McLornan, S. & Guichon, N. (2008). The effects of multimodality on L2 learners: Implications for CALL resource design. System: An International Journal of Education Technology and Applied Linguistics, 36(1), 85-93.
Meng, C. G. C. & Taib, Y. (2006). Metacognitive instruction in listening for young learners. ELT Journal, 60(3), 222-232.
Morley, J. M. (1991). Listening Comprehension in Second/Foreign Language Instruction. In Marianne Celce-Murcia (Ed.). Teaching English as a Second or Foreign Language (Second Edition). New York: Newbury House.
Nguyen, T. B. H. (2013). English learning strategies of Vietnamese tertiary students. Unpublished doctoral thesis, University of Tasmania, Australia.
Nunan, D. (2010). Teaching English to Young Learners. Anaheim, CA: Anaheim University Press.
O'Malley, J. M., & Chamot, A. U. (1990). Listening comprehension strategies in second language acquisition. Applied Linguistics, 10(4), 418-437.
Oxford, R. (1990). Language learning strategies: What every teacher should know. Boston, MA: Heinle & Heinle.
Pujola, J. T. (2002). CALLing for help: Researching language learning strategies using help facilities in a web-based multimedia program. ReCALL, 14(2), 235-262.
Purnomowati, Y. R. (2016). Listening strategies used by ELEP students in listening classes. Unpublished master's thesis. Universitas Kristen Satya Wacana, Indonesia.
Richard, J. C. (2008). Teaching listening and speaking. From theory to practice. New York: Cambridge University Press.
Rost, M. & Ross, S. (1991). Learner use of strategies in interaction: Typology and teachability. Language Journal, 78(2), 199-221.
Sanders, R. F. (2005). Redesigning introductory Spanish: Increased enrollment, online management, cost reduction, and effects on student learning. Foreign Language Annals, 38(4), 523-532.
Savigon, S. J. & Sysoyev, P. V. (2002). Sociocultural strategies for a dialogue of cultures. The Modern Language Journal, 86(4), 508-524.
Scida, E. E., & Saury, R. E. (2006). Hybrid courses and their impact on student and classroom performance: A case study at the University of Virginia. CALICO Journal, 23(3), 517-531.
Sheorey, R., & Mokhtari, K. (2001). Differences in the Metacognitive Awareness of Reading Strategies among Native and Non-Native Readers. System, 29(4), 431-449.
Stein, S. K. (1999). Uncovering listening strategies: Protocol analysis as a means to investigate student listening in the basic communication course. Unpublished doctoral dissertation. University of Maryland, Maryland.
Tavakoli, M., Shahraki, S., & Rezazadeh, M. (2012). The Relationship between Metacognitive Awareness and EFL Listening Performance: Focusing on IELTS Higher and Lower Scorers. The Journal of Language Teaching and Learning, 2, 24-37.
Vandergrift, L. (1997). The comprehension strategies of second language (French) listener. Language Learning, 53(3), 463-496.
Vandergrift, L. (1999). Facilitating second language listening comprehension: acquiring successful strategies. ELT Journal, 53(3), 168‐276.
Vandergrift, L. (2003). Orchestrating strategy use: toward a model of the skill second language listener. Language Learning, 53(3), 463-496.
Vandergrift, L. (2007). Recent developments in second and foreign language listening comprehension research. Language Teaching, 40(3), 191-210.
Walker, N. (2014). Listening: The most difficult skill to teach. Encuentro, 23, 167-175.
Wang, K & Liu, H. (2011). Language acquisition with the help of captions. Studies in Literature and Language, 3(3), 41-45.
Wenden, A. L. (1998). Metacognitive knowledge and language learning. Applied Linguistics, 19(4), 515-537.
Yang, H.Y. (2014). The Effects of Advance Organizers and Subtitles on EFL Learners' Listening Comprehension Skills. CALICO Journal, 31(3), 345-373.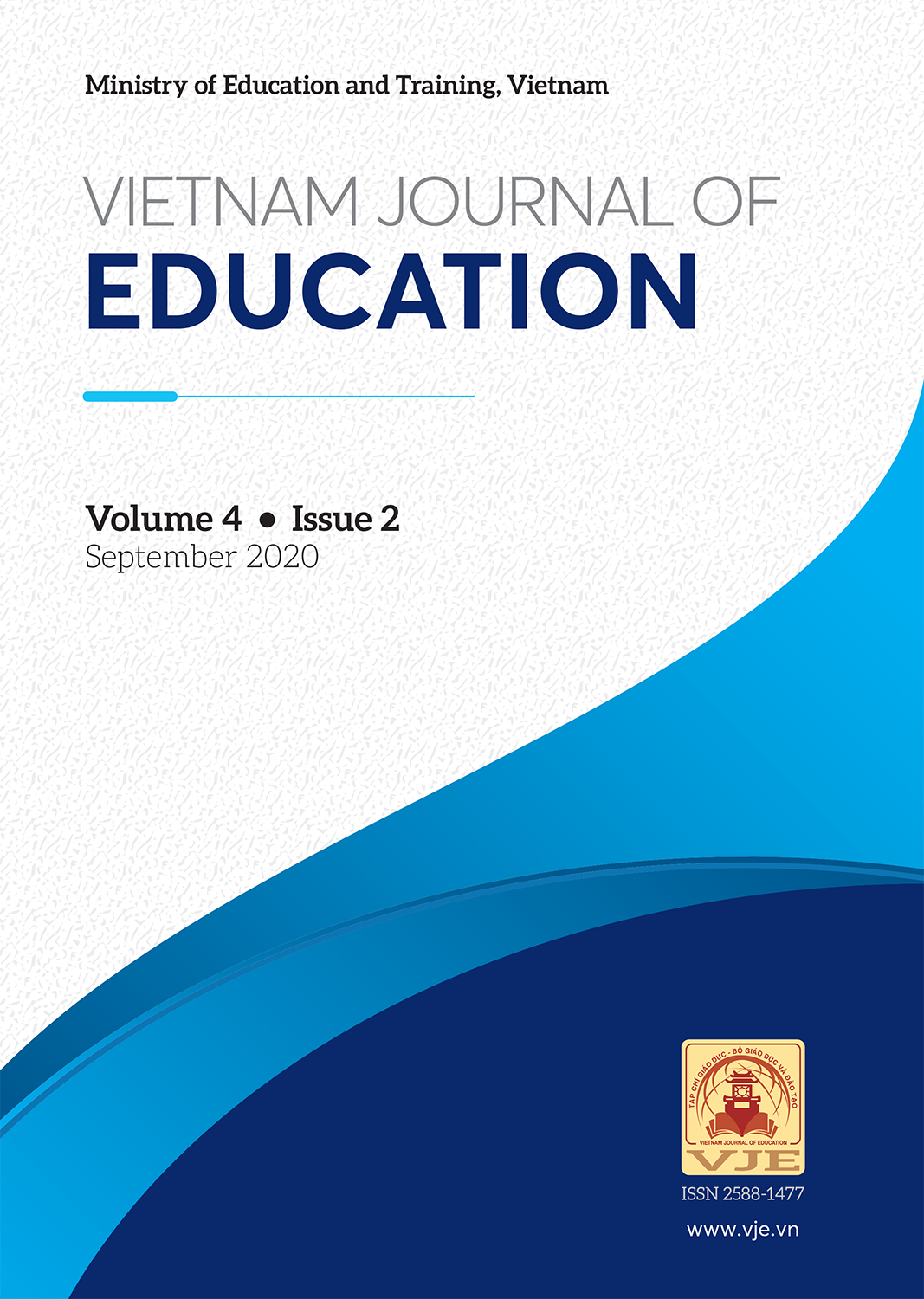 Downloads
How to Cite
Nguyen, H. D. N. (2020). Understanding EFL students' use of listening strategies in watching English captioned movies. Vietnam Journal of Education, 4(2), 37–46. https://doi.org/10.52296/vje.2020.18
Section
Original Articles
License
This work is licensed under a Creative Commons Attribution 4.0 International License.