Solutions to restructuring the network of teacher training institutions in Vietnam
How to Cite
Pham, Q. H., & Nguyen, N. D. (2020). Solutions to restructuring the network of teacher training institutions in Vietnam. Vietnam Journal of Education, 4(1), 9–13. https://doi.org/10.52296/vje.2020.2
Abstract
This paper presents an overview of systematising teacher training institutions in several countries around the world and investigates the limitations of Vietnam's teacher training system. Based on the practical survey and analyzing the opinion of educational experts, the paper proposes a number of solutions for restructuring the teacher training system in Vietnam to overcome the limitations of planning the teacher training institutions and developing their competencies, thereby review, arrange and form a number of key pedagogical universities and other satellite pedagogical universities/ colleges to meet the current requirements of teacher training education.
Downloads
Download data is not yet available.
References
Adele Gordon (2009). Restructuring teacher education. Issues in Education Policy, Number 6, Centre for Education Policy Development.
Lee Jeong-Kyu (2000). Main reform on higher education systems in Korea. Revista Electrónica de Investigación Educativa, 2(2), 61-76.
Paine, L.W., Fang, Y.P., Wilson, S. (2006). Reform as a hybrid model of teaching and teacher development in China. International Journal for Education Research, 45(4-5), 279-289.
Paul R. Weldon (2015). The teacher workforce in Australia: Supply, demand, and data issues. Australia Council for Educational Research, Policy Insights, Issue 2, Melbourne: ACER.
Pham Hong Quang (2013). Developing teacher training curriculum: Theory and practice. Thai Nguyen University Publishing House.
Prime Minister (2007). Decision No.121/2007/QĐ-TTg on the approval of "Planning on the network of Vietnamese universities and colleges in the 2006-2020 period" (issued on July 27, 2007).
Prime Minister (2013). Decision No.37/2013/QĐ-TTg on "Adjusting the planning of Vietnam university and college network 2006-2020" (issued on June 26, 2013).
Pham Quang Sang (2011). Research on building the predictive model to develop tertiary education in Vietnam. Research Project at Ministerial Level, code: B20078-37-31TĐ, The Vietnam National Institute of Educational Sciences.
Nguyen Thi Binh (2013). Research on proposing some measures of renovation in training and fostering teachers. Research Project at National Level, Vietnam Peace and Development Foundation.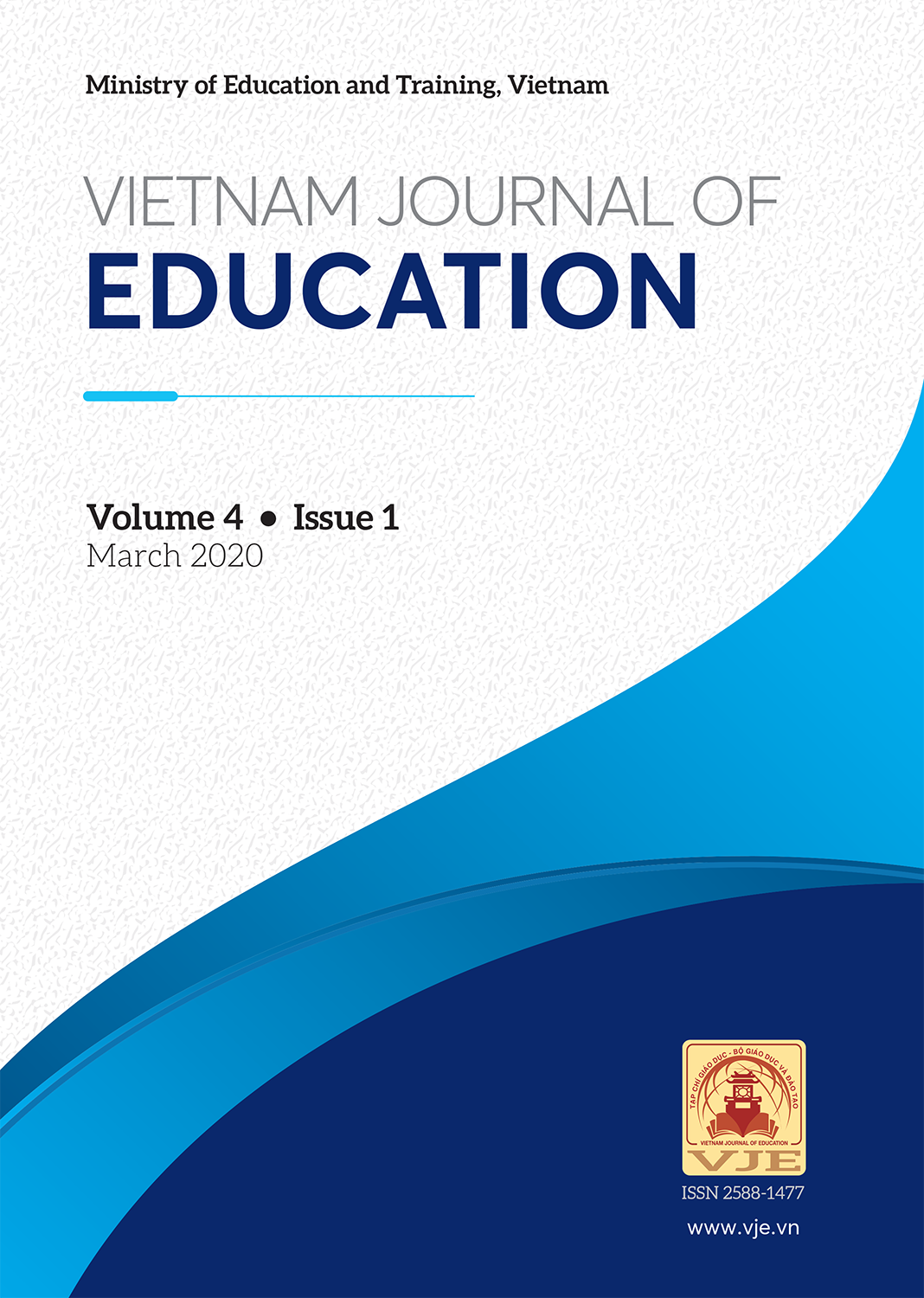 Downloads
How to Cite
Pham, Q. H., & Nguyen, N. D. (2020). Solutions to restructuring the network of teacher training institutions in Vietnam. Vietnam Journal of Education, 4(1), 9–13. https://doi.org/10.52296/vje.2020.2
Section
Original Articles
License
Copyright (c) 2020 Vietnam Journal of Education
This work is licensed under a Creative Commons Attribution 4.0 International License.