Studying Political Theory Subjects Using Flipped Classroom Model - Assessment from Gen-Z Students
How to Cite
Tieu, H. M. T. (2022). Studying Political Theory Subjects Using Flipped Classroom Model - Assessment from Gen-Z Students. Vietnam Journal of Education, 6(3), 265–276. https://doi.org/10.52296/vje.2022.234
Abstract
Political Theory subjects play critical roles in Vietnam's society in the current context of the 4th Industrial Revolution, globalization and information explosion. Particularly, the recent decade has welcomed the emergence of a new generation of university students - generation Z, with distinctive characteristics compared to previous generations, that is: activeness, creativity, adaptability, and familiarity with technology. Therefore, it is inevitable to innovate the methods of teaching with Political Theory subjects to keep pace with these developments in education. The flipped classroom model has so far been implemented in teaching the Political Theory Subjects in several universities. This study is designed based on the flipped classroom model, employing questionnaires with a 5-point Likert scale for 648 students at Hanoi National University of Education. The data collected was analyzed with SPSS 20.0 software. Open-ended questions are also included in the questionnaire to gather a variety of personal viewpoints. Besides, the research method of interview was applied with 30 students. The study aims to clarify gen-Z students' judgment of using the flipped classroom model in teaching Political Theory subjects. Furthermore, the author sheds light on the suitability and effectiveness of the very teaching model as a basis for its future application.
Downloads
Download data is not yet available.
References
Bergmann, J., & Sams, A. (2012). Flipping for mastery. Educational leadership: journal of the Department of Supervision and Curriculum Development, N.E.A 71(4), 25-29.
Bishop, J. L., Verleger, M. A. (2013). The Flipped Classroom: A Survey of the Research. 120th American Society for Engineering Education Annual Conference and Exposition, 30, 1-18.
Chicca, J., & Shellenbarger, T. (2018). Connecting with Generation Z: Approaches in nursing education. Teaching and Learning in Nursing, 13(3), 180-184.
Dauksevicuite, I. (2016). Unlocking the full potential of digital native learners. Henley Business School, Mc Graw Hill Education handouts.
Dimock, M. (2019). Defining generations: Where Millennials end and Generation Z begins. Pew Research Center,17(1), 1-7.
Gilboy, M. B., Heinerichs, S., & Pazzaglia, G. (2015). Enhancing Student Engagement Using the Flipped Classroom. Journal of Nutrition Education and Behavior, 47(1), 109-114.
Hamdan, N., McKnight, P., McKnight, K., & Arfstrom, K. M. (2013). The flipped learning model: A white paper based on the literature review titled "A review of flipped learning" Arlington. VA: Flipped Learning Network.
Hampton, D. C., & Keys, Y. (2017). Generation Z students: Will they change our nursing classrooms? Journal of Nursing Education and Practice, 7(4), 111-115.
Hanaa Ouda Khadri Ahmed. (2016). Flipped Learning as A New Educational Paradigm: An Analytical Critical Study. European Scientific Journal, 12(10), 418-444.
Jambulingam, M., Selvarajah, C., & Thuraisingam, A. (2014). Social media networks and Gen Z. Research Journal of Applied Sciences, Engineering and Technology, 8(8). Retrieved from https://doi.org/10.19026/rjaset.8.1067
Kulcsár, N. (2020). Motivation factors for Generation Z in higher education. In F. Soares, A. Lopes, K. Brown, & A. Uukkivi (Eds.), Developing Technology Mediation in Learning Environments, 206-220. IGI Global.
Lage, M.J., Platt, G.J., Treglia, M. (2000) Inverting the Classroom: A Gateway to Creating an Inclusive Learning Environment. Journal of Economic Education, 31(1), 30-43.
Li, M. (2017). Research on the Innovative Practice of "The Flipped Classroom" in the Basic Management Course of Chinese Universities. Creative Education, 8(13), 2155-2163.
Mendoza, K.R. (2019). Engaging Generation Z: A Case Study on Motivating the Post-Millennial Traditional College Student in the Classroom, US-China Foreign Language, Vol. 17, No. 4, 157-166.
Milman, N. (2012). The flipped classroom strategy: what is it and how can
it be used? Distance Learning, 9(3), 85-87. https://www.proquest.com/docview/1140334863
Milner, H. R. (2011). Five easy ways to connect with students. Harvard Education Letter, 27(1). Retrieved from http://hepg.org/hel-home/issues/27_1/helarticle/five-easy-ways-to-connect-with-students_492
Mohr, K. A., & Mohr, E. S. (2017). Understanding Generation Z students to promote a contemporary learning environment. Journal on Empowering Teaching Excellence, 1(1), 84-94.
Mull B. (2012). Flipped learning: A response to five common criticisms.
https://novemberlearning.com/assets/flipped-learning-a-response-to-five-common-criticisms.pdf
O'Connor, W. (2016). Generation Z: How this generation is different from Millennials (what parents need to know). Seattle, WA: Amazon Digital Services.
Oblinger, D., & Oblinger, J. (2005). Is It Age or IT: First Steps towards Understanding the Netgeneration. In D. Oblinger, & J. Oblinger (Eds.), Educating the Net Generation (pp. 2.1-2.20). Boulder, CO: EDUCAUSE. http://www.educause.edu/educatingthenetgen
Ofcom. (2016). Ofcom Digital Day 2016 Results from the children's diary study. https://www.ofcom.org.uk/__data/assets/pdf_file/0017/94013/Childrens-Digital-Day-report-2016.pdf
Pletka, B. (2007). Educating the Net generation: How to engage students in the 21st century. Santa Monica, CA: Santa Monica Press, 2nd ed. edition.
Qu, X.M., Miao, R. (2021) Research of Learning Strategies in Flipped Classroom. Open Access Library Journal, 8(05), 1-8.
Rothman, D. (2016). A Tsunami of learners called Generation Z. http://www.mdle.net/Journal/A_Tsunami_of_Learners_Called_Generation_Z.pdf
Sapha Shibeeb (2019). Implementation of Flipped Classroom Design in Transfusion Science Course. American Journal of Medicine and Medical Sciences, 9(7), 275-279.
Schwieger, D., & Ladwig, C. (2018). Reaching and retaining the next generation: Adapting to the expectations of Gen Z in the classroom. Information Systems Education Journal, 16(3), 45-54.
Seemiller, C. & Grace, M. (2016). Generation Z goes to college. San Francisco: Jossey-Bass.
Tieu Thi My Hong (2020). Using flipped classroom model in teaching K. Marx - F. engels - V.I. Lenin's classical works for students majoring in political education, Hnue Journal of Science
Educational Sciences, 64(4B), 3-12.
Toto, R., & Nguyen, H. (2009). Flipping the work design in an industrial
engineering course. ASEE/IEEE Frontiers in Education Conference. San Antonio,
TX. http://archive.fie-conference.org/fie2009/papers/1261.pdf
Turner, A. (2015). Generation Z: Technology and Social Interest . The Journal of Individual Psychology, 71(2), 103-113.
Vizcaya-Moreno, M. F. & Pérez-Cañaveras, R. M. (2020). Social media used and teaching methods preferred by Generation Z students in the nursing clinical learning environment: A cross-sectional research study. International Journal of Environmental Research and Public Health, 17(21), 8267.
Zhong, X.L., Song, S.Q. and Jiao, L.Z. (2013) Instructional Design Based on the Idea of the Flipped Classroom in ICT Environment. Open Education Research, 19, 58-64.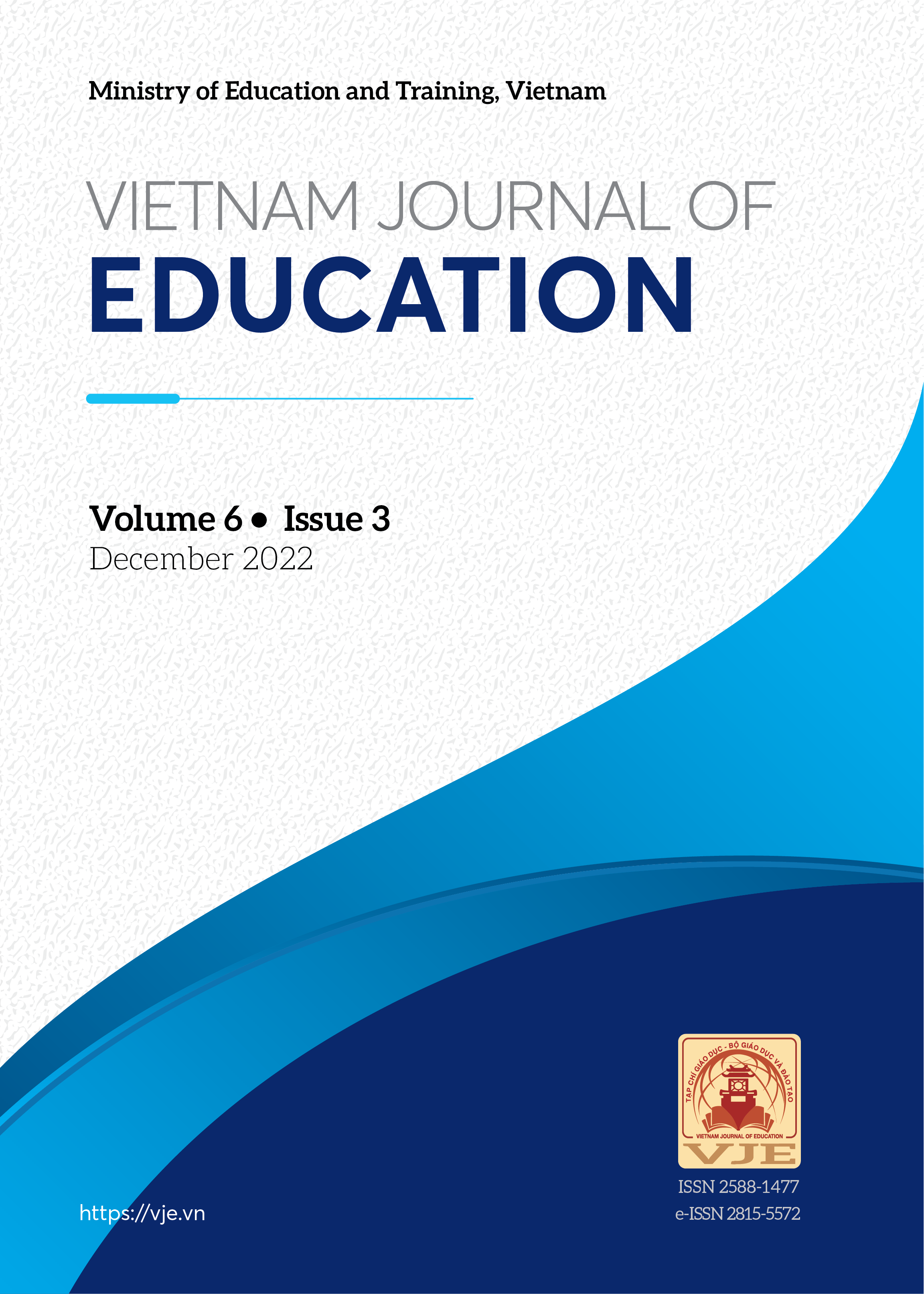 Downloads
How to Cite
Tieu, H. M. T. (2022). Studying Political Theory Subjects Using Flipped Classroom Model - Assessment from Gen-Z Students. Vietnam Journal of Education, 6(3), 265–276. https://doi.org/10.52296/vje.2022.234
License
Copyright (c) 2022 Vietnam Journal of Education
This work is licensed under a Creative Commons Attribution 4.0 International License.