The effectiveness of using scoring rubrics in academic writing to English-majored students
How to Cite
Trinh, L. H. (2020). The effectiveness of using scoring rubrics in academic writing to English-majored students. Vietnam Journal of Education, 4(4), 76–82. https://doi.org/10.52296/vje.2020.83
Abstract
English academic writing competences play such an integral part in students' academic life. Nevertheless, students often deliver poor performances in academic writing class at university or have a great deal of difficulties in writing a composition. The paper presents the results from an action research project on the effectiveness of using scoring rubrics in teaching academic writing to English-majored freshmen in University of Languages and International Studies, Vietnam National University. 150 students coming from 6 different classes, all majoring in English language teaching or English language interpretation participated in this study. The article shows that after a semester using rubrics, the academic writing skills of students improved significantly with the increase in their grades also the decrease in the number of mistakes that they made during the writing process. However, there are still some certain hindrances to the use of rubrics in teaching and learning academic writing. Several recommendations are made concerning the effective use of scoring rubrics in academic writing class.
Downloads
Download data is not yet available.
References
Allen, D., & Tanner, K. (2006). Rubrics: tools for making learning goals and evaluation criteria explicit for both teachers and learners. CBE Life Sci Education, 5(3), 197-203.
Andrade, H. G. (2001). The effects of instructional rubrics on learning to write. Current Issues in Education, 4(4). Retrieved from https://cie.asu.edu/ojs/index.php/cieatasu/article/view/1630
Andrade, H., Wang, X., Du, Y. & Akawi, R. L. (2009). Rubric-referenced self-assessment and self-efficacy for writing. Educational Theory and Practice Faculty Scholarship, 13.
Arter, J., & McTighe, J. (2001). Scoring rubrics in the classroom: Using performance criteria for assessing and improving student performance. Thousand Oaks, CA: Corwin/Sage.
Bean, J. C. (1996). Engaging ideas: The professor's guide to integrating writing, critical thinking and active learning in the classroom. San Francisco, CA: Jossey-Bass.
Campbell, M. (2019). Teaching Academic Writing in Higher Education. Education Quarterly Reviews, 2(3), 608-614.
Creswell, J. W. (2005). Educational research, planning, conducting and evaluating quantitative and qualitative research. New Jersey: Prentice Hall.
Eschholz, P. (1980). The prose models approach: Using products in the process. Urbana, IL: National Council of Teachers of English.
Kemmis, S. (1991). Improving education through action research in Zuber-Skerrit Ortrun. Action research in Higher Education. Brisbane: Griffith University.
Lavelle, E., & Bushrow, K. (2007). Writing approaches of graduate students. Educational Psychology, 6, 807-822.
Moskal, B. M. (2000). Scoring Rubrics: What, When and How?. Practical Assessment, Research, and Evaluation, 7(3). https://doi.org/10.7275/a5vq-7q66
Nunan, D. (1991). Language Teaching Methodology. A Textbook for Teachers. Prentice Hall.
Panadero, E., & Jonsson, A. (2013). The use of scoring rubrics for formative assessment purposes revisited. Educational Research Review, 9, 129-144.
Pincas, A. (1962). Structural linguistics and systematic composition teaching to students of English as a foreign language. Language Learning, 12(3), 185-194.
Raimes, A. (1983). Techniques in teaching Writing. Oxford: Oxford University Press.
Reddy, Y. M. & Andrade, H. (2010). A review of rubric use in higher education. Assessment & Evaluation in Higher Education, 35, 435-448.
Silva, R. D. (2014). Rubrics for assessment: Their effects on ESL students' authentic task performance. 4th CELC Symposium Proceedings, National University of Singapore.
Stiggins, R. J. (2004). Student-involved assessment for learning. Upper Saddle River, NJ: Prentice Hall.
Sundeen, T. H. (2014). Instructional rubrics: effects of presentation options on writing quality. Assessing Writing, 21, 74-88.
Trinh Q. L, & Nguyen, T. T. (2014). Enhancing Vietnamese Learners' Ability in Writing Argumentative Essays. Journal of Asia TEFL, 11(2), 63-91.
Wang, W. (2017). Using rubrics in student self-assessment: student perceptions in the English as a foreign language writing context. Assessment and Evaluation in Higher Education, 42(8), 1208-1292.
White, R. & Arndt, V. (1991). Process writing. Harlow, UK: Longman.
Yen, C. A. (2018). Effectiveness of using rubrics for academic writing in an EFL literature classroom. The Asian Journal of Applied Linguistics, 5(1), 70-80.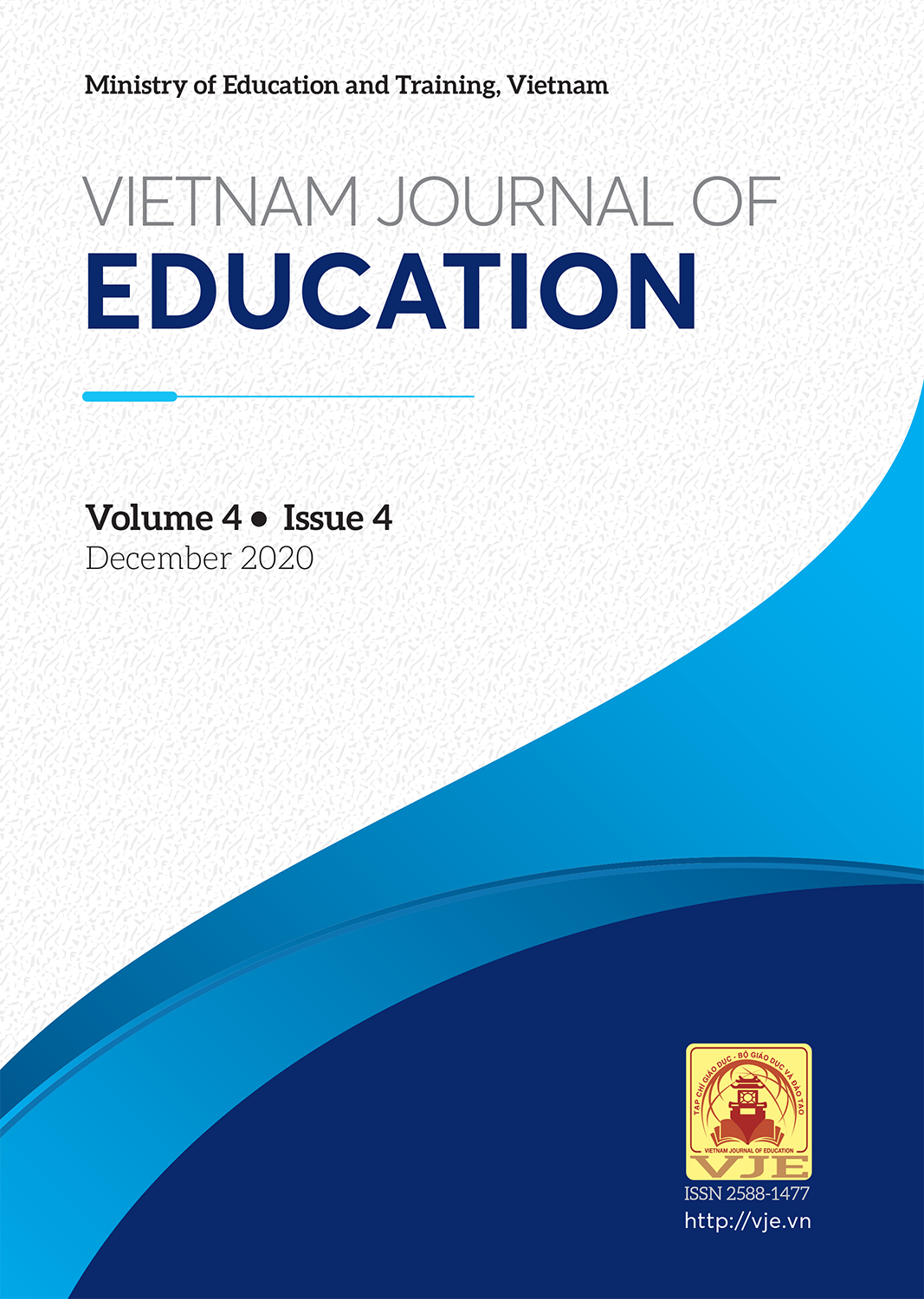 Downloads
How to Cite
Trinh, L. H. (2020). The effectiveness of using scoring rubrics in academic writing to English-majored students.
Vietnam Journal of Education
,
4
(4), 76–82.
https://doi.org/10.52296/vje.2020.83
Section
Original Articles
License
This work is licensed under a Creative Commons Attribution 4.0 International License.