Childcare and education quality assurance at private preschools: A case study in Hanoi, Vietnam
How to Cite
Nguyen, T. B. T. (2020). Childcare and education quality assurance at private preschools: A case study in Hanoi, Vietnam. Vietnam Journal of Education, 4(4), 83–87. https://doi.org/10.52296/vje.2020.84
Abstract
Research on quality assurance (QA) over nurturing, caring and educating preschool children is an urgent and crucial issue, especially at private preschools. Using questionnaire survey methods, the study evaluates the situation of ensuring the quality of nurturing and educating children in private preschools regarding the following main aspects: establishing quality standards of child nurturing and education; building a quality assurance system and procedure for preschools' childcare and education; financial and infrastructure conditions for QA activities to nurture and educate children; the community's participation into private preschools' activities; developing a culture of preschools' childcare and education quality. The research significance lies in the implications from the results to improve QA of nurturing and educating children in private preschools in Hanoi, Vietnam.
Downloads
Download data is not yet available.
References
Chan, L. K., & Chan, L. (2003). Early Childhood Education in Hong Kong and its Challenges. Early Child Development and Care, 173(1), 7-17. DOI: 10.1080/0300443022000022387
Dalli C., White E., Rockel J., & Duhn, I. (2011). Quality ECE for under-two year olds: What should it look like? A literature review. New Zealand: Report to the Ministry of Education.
Dang, H. P. (2017). Preschool Education Quality in Vietnam in the era of international integration: Situation and Implications. Vietnam Journal of Education, Special Volume 12/2017, 130-132.
Khoi Minh (2017). Supervising quality of private preschools. Today Magazine (an edition of People Magazine) issued 14/1/2017. Retrieved from: https://nhandan.com.vn/baothoinay-dothi/siet-chat-luong-truong-mam-non-tu-thuc-311931
Le, T. T. B. (2012). Managing childcare and education quality at private preschools in Ho Chi Minh city, Vietnam. Doctorate Dissertation, Vinh University.
Lloyd Megan Millenkfy (2010). The key role of staff in providing quality preschool education.
McCrea, N. L. & Piscitelli, B. (1991). Handbook of High-Quality Criteria for Early Childhood Programs (rev. ed.). Brisbane, Queensland: QUT.
Merrill, B. et al. (2020). "Quality" assurance features in state-funded early childhood education: A policy brief. Children and Youth Services Review, 113, 104972. https://doi.org/10.1016/j.childyouth.2020.104972
Ministry of Education and Training (2018). Regulations on education quality assessment and recognition of national standard fulfilment with preschools (issued with Circular No 19/2018/TT-BGDDT of MoET).
Nguyen, T. B. T. (2020). Awareness of managers and teachers at private preschools in Hanoi about childcare and education assurance. Journal of Science, Vinh University, 49, Issue 3B/2020, 57-63.
Nguyen, T. B. T. (2020). Developing the rapport between preschools and parents in childcare and education at private preschool: Situation and Solutions. Vietnam Journal of Education, Special Volume 2, November 2020.
Phan, V. K. (2014). Vietnam's education management reform: Theory and Practice. Hanoi National University Publishing House.
Prime Minister (2018). Decision No 1677/QD-TTg dated 03/12/2018 of the Prime Minister approving the Preschool Education Development in the period 2018-2025.
Tran, T. B. T. (2001). Recommendations to foster childcare and education quality at non-state preschools. Ministry-level scientific project, Code B2000-52- 46. Institute of Education Strategies and Programs.
Yoshikawa, H. et al. (2013). Investing in our future: The evidence base on preschool education. New York, NY: Foundation for Child Development.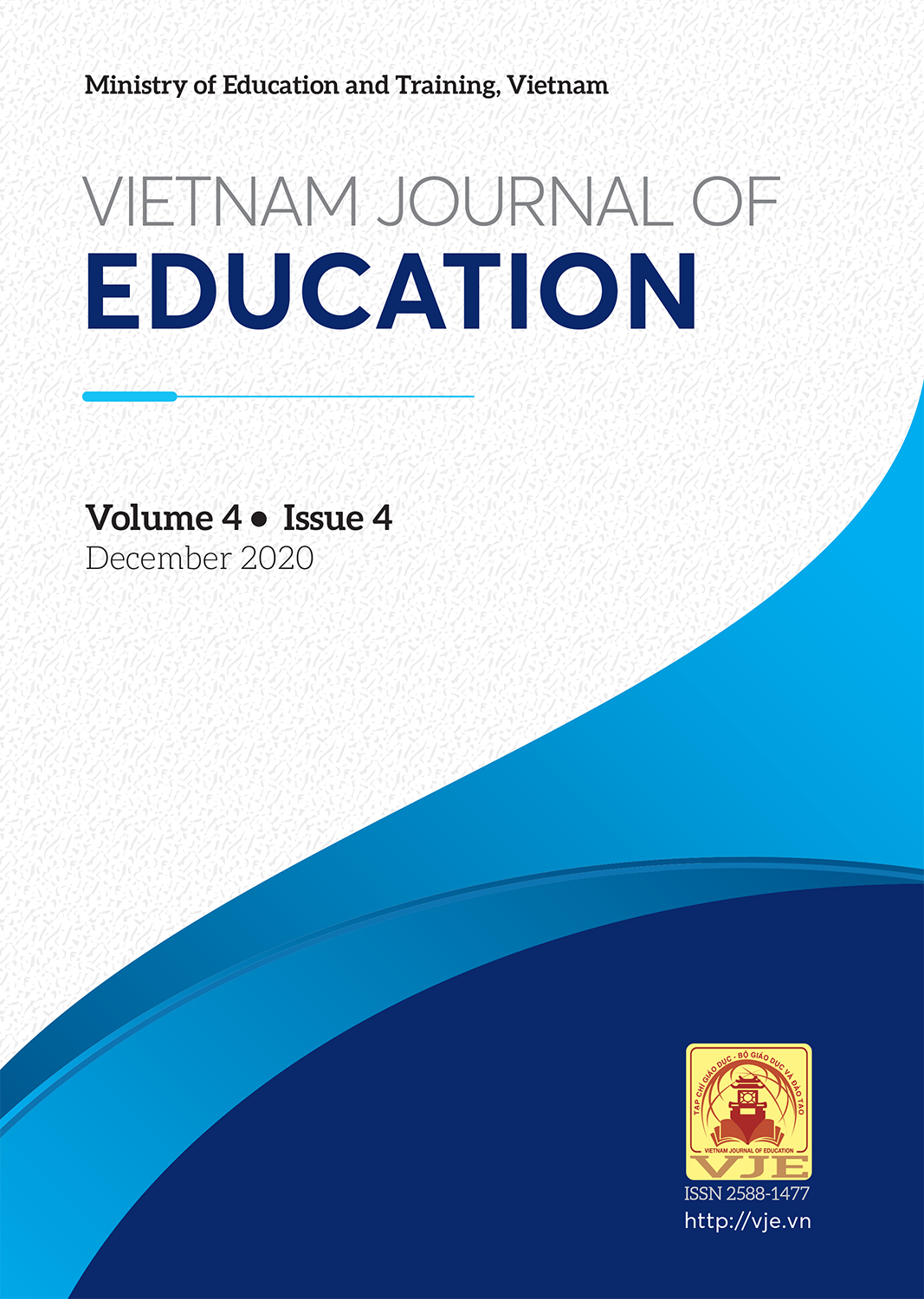 Downloads
How to Cite
Nguyen, T. B. T. (2020). Childcare and education quality assurance at private preschools: A case study in Hanoi, Vietnam. Vietnam Journal of Education, 4(4), 83–87. https://doi.org/10.52296/vje.2020.84
Section
Original Articles
License
Copyright (c) 2020 Vietnam Journal of Education
This work is licensed under a Creative Commons Attribution 4.0 International License.