The process of evaluating students based on university program learning outcomes
How to Cite
Luu, L. K., & Phan, L. (2020). The process of evaluating students based on university program learning outcomes. Vietnam Journal of Education, 4(4), 93–99. https://doi.org/10.52296/vje.2020.86
Abstract
As higher education tends to witness drastic changes, the quality of output is highly valued, which demands continuous innovation in the teaching process, especially on assessing students' learning outcomes from the training program's requirements. The paper outlines the relationship between student assessment and other components in the teaching process, performance indicator (PI) for the program learning outcomes, which refers to teaching, testing and assessment activities. At the same time, the article presents the process of setting up and evaluating the achievements of students through the method of PI evaluation based on the program's learning outcomes. The current situation is that the learning outcomes of undergraduate training programs in various universities in the country tend to be developed in a general and highly integrated manner, thus widening the gap between the learning outcomes' requirements and the actual teaching, testing, and evaluation activities of the module/ subject.
Downloads
Download data is not yet available.
References
Alzubaidi, L. (2017). Programme outcomes assessment using key performance indicators. Proceedings of 62nd ISERD International Conference, Boston, USA.
Ayadi, T., Ahmed, T., Chowdhury, S., Asiz, A. (2020). Measurable performance indicators of student learning outcomes: a case study. Global Journal of Engineering Education, 22(1), 40-50.
Ministry of Education and Training (2010). Correspondent Letter No. 2196/BGDDT-GDDH dated 22/4/2010 on the construction and announcement of learning outcomes.
Ministry of Education and Training (2016). Circular No. 04/2016/TT-BGDDT dated March 14, 2016 promulgating the standards for evaluating the quality of training programs at all levels of higher education.
Biggs, J. & Tang, C. (2007). Teaching for Quality Learning at University Maidenhead. Open University Press,
McGraw Hill.
Biggs, J. B. (1996). Enhancing teaching through constructive alignment. Higher Education, 32, 1-18.
Hoang Thi Huong (2018). Improving the quality of developing learning outcomes in a number of higher education institutions in our country. Vietnam Journal of Education, special issue May 2, 86-89.
Le Ngoc Quynh Lam, Vu The Dung, Do Ngoc Hien, Lam Tuong Thoai, Vu Thi Thuy Trang, Dinh Ngoc Anh (2017). Developing a set of indicators to evaluate the effectiveness of university training programs in the fields of engineering and technology. Science and Technology Development Journal, 20, Book 3, 44-50.
Luu Khanh Linh (2020). Evaluating the learning results of the subjects according to the program learning outcomes to ensure the connection of the components of the teaching process. Vietnam Journal of Education, special issue May 1, 67-72.
Luu Khanh Linh (2020). Research on student assessment and student orientation according to the program learning outcomes of the university-level training program. Vietnam Journal of Education, 483, 6-12.
Sharma, S. K., Tirumalai, S. V., Alhamdan, A. A. (2019). Mathematical models for evaluating programme and course learning outcomes in higher education. International Transaction Journal of Engineering, Management, Applied Sciences & Technologies, 10(3), 283-297. DOI: 10.14456/ITJEMAST.2019.28
Ong Chee Bin, J. (2018). An integrated AUN-QA and OBE Framework for programme QA. Accessed from http://johnsonongcheebin.blogspot.com/2018/03/an-intergrated-aun-qa-and-obe-framework.html
Tyler, R. W. (1949). Basic principles of training program and instruction. Chicago: The University of Chicago Press.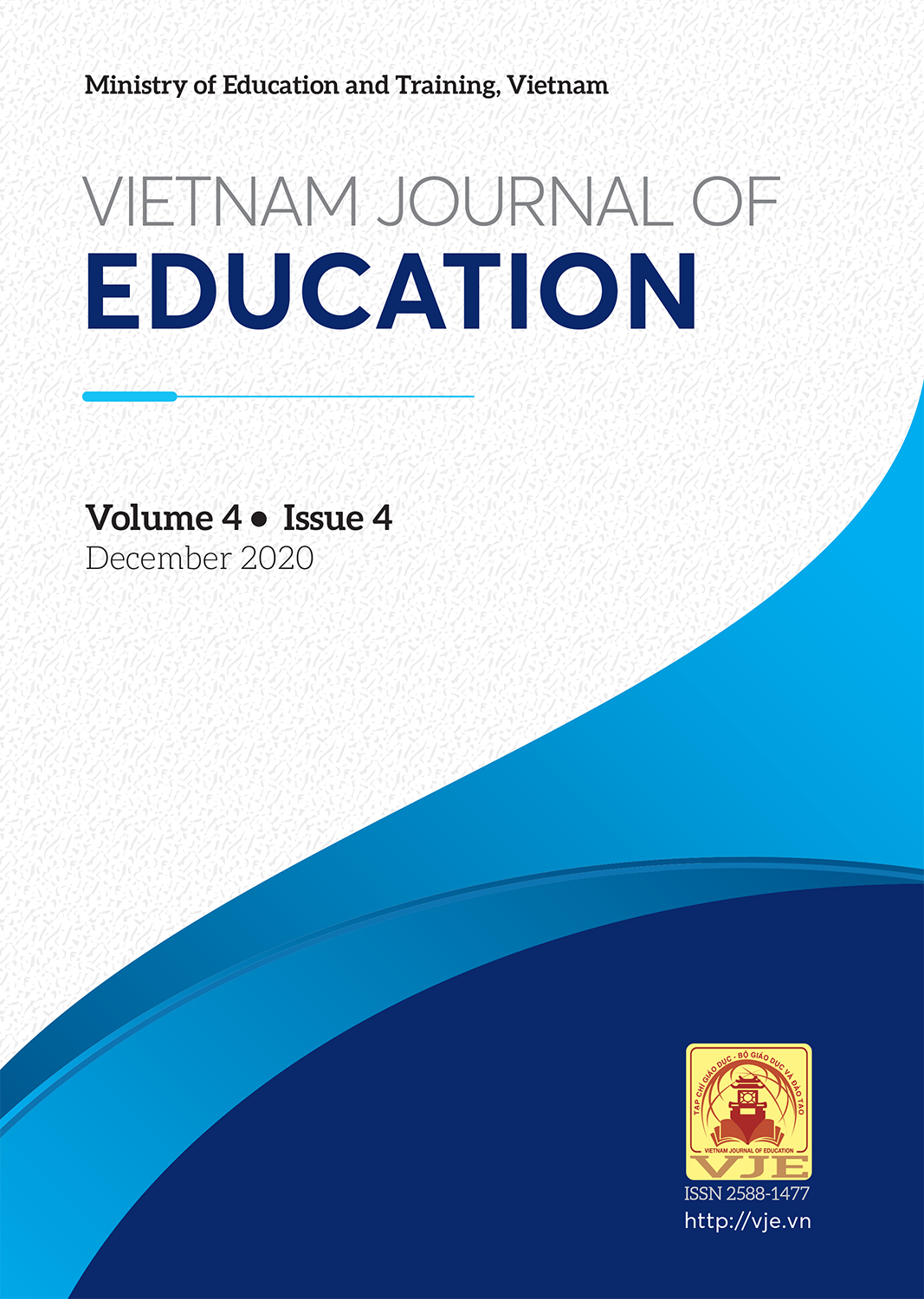 Downloads
How to Cite
Luu, L. K., & Phan, L. (2020). The process of evaluating students based on university program learning outcomes. Vietnam Journal of Education, 4(4), 93–99. https://doi.org/10.52296/vje.2020.86
Section
Original Articles
License
This work is licensed under a Creative Commons Attribution 4.0 International License.