The situation and efficiency of using E-learning training model at Can Tho University
How to Cite
Pham, T. P., & Nguyen, T. M. (2020). The situation and efficiency of using E-learning training model at Can Tho University. Vietnam Journal of Education, 4(1), 83–88. https://doi.org/10.52296/vje.2020.12
Abstract
Can Tho University, as a key university in the Mekong Delta region, has strived to exploit E-learning in order to create opportunities and advances to meet learning demands of students inside and outside the region. The paper, based on the university's E-learning model, analyzes and assesses the reality and proposes some policies to develop this form of training to become one of the common practices of training in the coming time, creating more opportunities for people and communities to participate in a learning society, following the inevitable future trend.
Downloads
Download data is not yet available.
References
Alonso, F., López, G., Manrique, D. & Viñes, J.M. (2005). An Instructional Model for Web‐based E‐learning Education with a Blended Learning Process Approach. British Journal of Educational Technology, 36, 217-235. DOI:10.1111/j.1467-8535.2005.00454.x
Andersson, A. & Grönlund, Å. (2009). A Conceptual Framework for E‐learning in Developing Countries: A Critical Review of Research Challenges. The Electronic Journal of Information Systems in Developing Countries, 38,
-16. DOI:10.1002/j.1681-4835.2009.tb00271.x
Bui Thanh Giang (2004). Distance learning technologies and E-learning. Post Office Publishing.
Do Xuan Thao & Le Hai Yen (2008). Building distance learning model by multimedia communication. Journal of Education, 203, 20-23; 12.
Nor Aziah Alias & Ahmad Marzuki Zainuddin (2005). Innovation for Better Teaching and Learning: Adopting the Learning Management System. Malaysian Online Journal of Instructional Technology, 2(2), 27-40.
Nguyen Ngoc Trang (2017). Project-based teaching in college information technology training with support of
E-learning. Doctoral Thesis in Educational Science, Vietnam Institute of Educational Sciences.
Pham Phuong Tam (2017). Management of distance learning to meet the human resources needs of the Mekong Delta. Hanoi National University Press.
Phan Van Kha & Pham Phuong Tam (2016). Distance training management model meets the needs of university-level human resources. Journal of Educational Science, Vietnam Academy of Educational Sciences, 134, 13-18.
Prime Minister (2015). Decision No. 1559/QD-TTg dated September 10, 2015 approving the project "Development of distance learning in the period of 2015-2020".
Tran Thanh Dien & Nguyen Thai Nghe (2017). E-learning models that support teaching and learning. Journal of Science, Can Tho University, Special issue: Information Technology, 103-111. DOI:10.22144/ctu.jsi.2017.014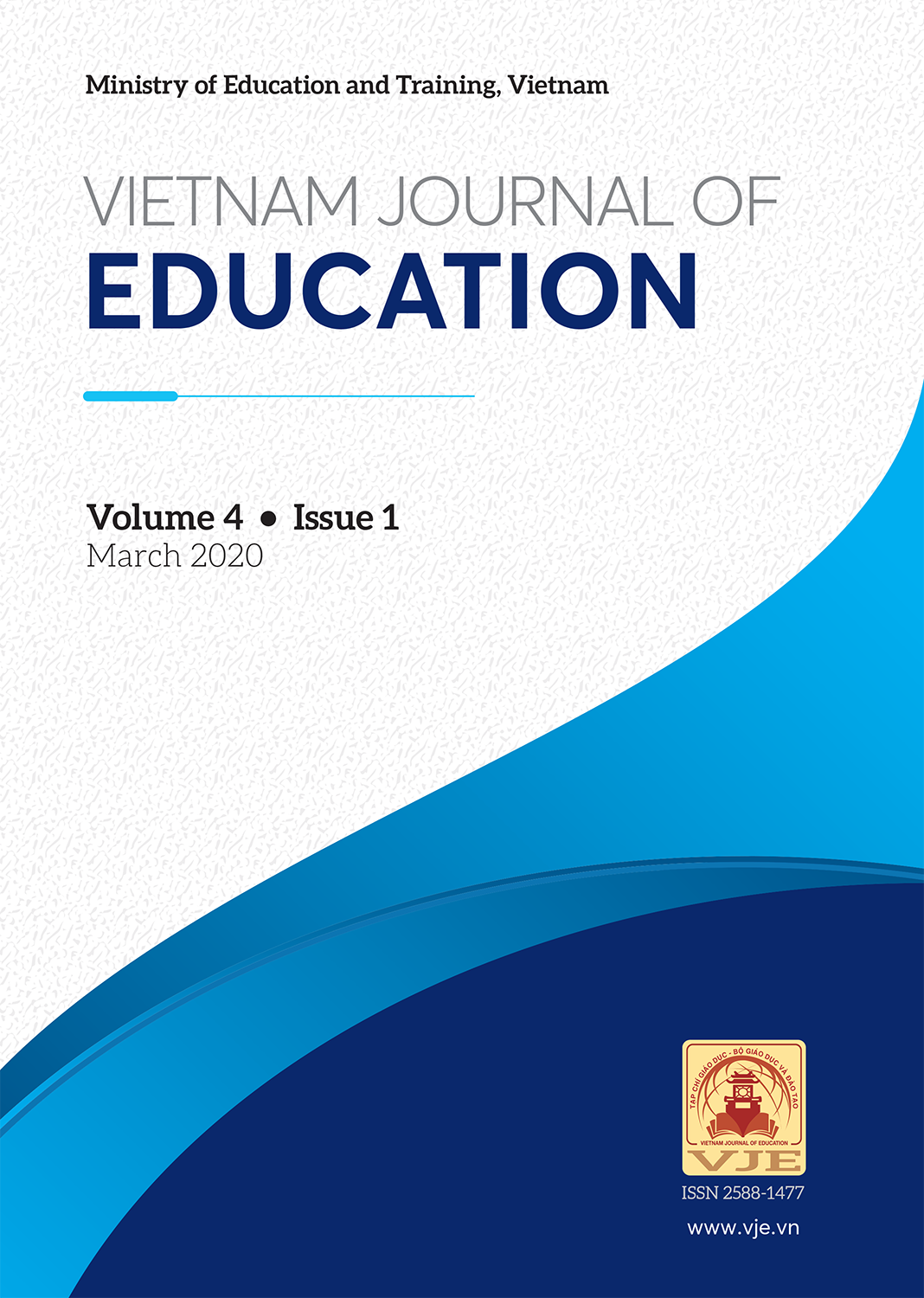 Downloads
How to Cite
Pham, T. P., & Nguyen, T. M. (2020). The situation and efficiency of using E-learning training model at Can Tho University. Vietnam Journal of Education, 4(1), 83–88. https://doi.org/10.52296/vje.2020.12
License
This work is licensed under a Creative Commons Attribution 4.0 International License.