A case study by using Khan Academy, an open-source environment
How to Cite
Nguyen, T. C., & Le, C. T. (2020). A case study by using Khan Academy, an open-source environment. Vietnam Journal of Education, 4(4), 22–27. https://doi.org/10.52296/vje.2020.76
Abstract
The purpose of this study was to analyze the effects of the flipped-classroom approach in teaching mathematics using Khan Academy, an open-source learning platform, and to examine students' views about their experiences. The experiment was evaluated in both qualitative and quantitative ways. After introducing Khan Academy environment to a group of students at a private school in Hanoi, we organized several high school mathematics teaching units. The students were then observed as they learned the material in the flipped-classroom format. The different types of assessment such as formative and summative assessment designed and integrated within the environment were analyzed in light of competency-based assessment approach. The research found that the flipped-classroom approach using Khan Academy boosted student achievement in mathematics while the diverse tests such as QCM, open-end question on the platform played a vital role in the learning process. We also found that teachers need to design additional teaching resources to better integrate Khan Academy environment into the Vietnamese classroom.
Downloads
Download data is not yet available.
References
Bergmann, J., & Sams, A. (2012). Flip your classroom. Reach every student in every class every day. Washington, DC: International Society for Technology in Education.
Hoyles, C., & Jones, K. (1998). Proof in dynamic geometry contexts. In C. Mammana, & V. Villani (Eds.), Perspectives on the teaching of geometry for the 21st century (pp. 121-128). Dordrecht, The Netherlands: Kluwer.
International Society for Technology in Education [ISTE]. (2008). ISTE standards for teachers. Retrieved from https://www.iste.org/docs/pdfs/20-14_ISTE_Standards-T_PDF.pdf
Khan Academy (2016). Retrieved from https://www.khanacademy.org
Laborde, C. (1993). The Computer as part of the learning environment: The Case of geometry. In C. Keitel & K. Ruthven (Ed.), Learning from computers: Mathematics education and technology (pp. 48-67).
Niess, M. L. (2005). Preparing teachers to teach science and mathematics with technology: Developing a technology pedagogical content knowledge. Teaching and Teacher Education, 21(5), 509-523.
Sahin, A., Cavlazoglu, B., & Zeytuncu, Y. E. (2015). Flipping a college calculus course: A Case study. Educational Technology & Society, 18(3), 142-152.
Tran Van Hao et al. (2006). Algebra 10. Vietnam Education Publishing House.
Zengin, Y. (2017). Investigating the Use of the Khan Academy and Mathematics Software with a Flipped Classroom Approach in Mathematics Teaching. Educational Technology & Society, 20(2), 89-100.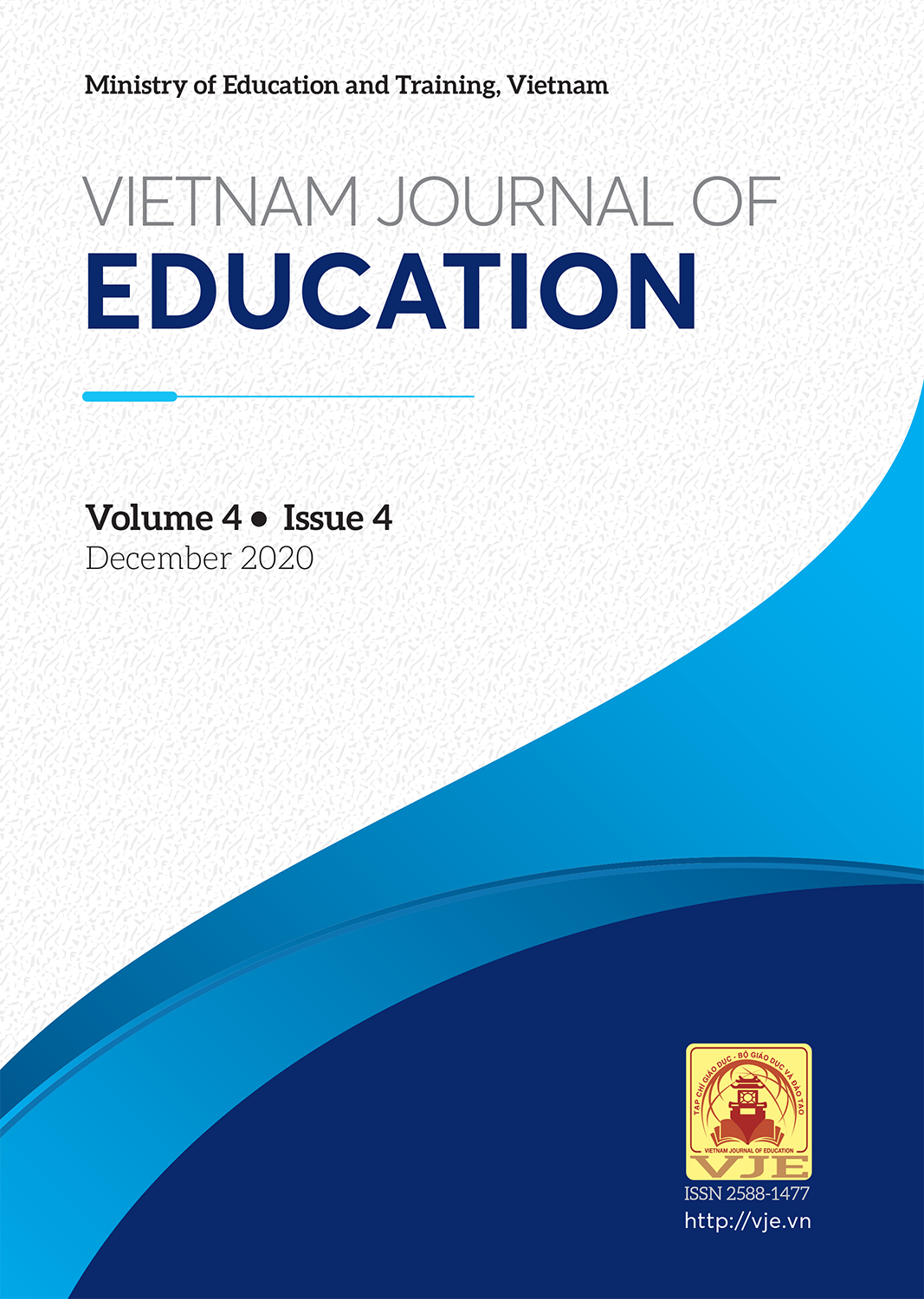 Downloads
How to Cite
Nguyen, T. C., & Le, C. T. (2020). A case study by using Khan Academy, an open-source environment. Vietnam Journal of Education, 4(4), 22–27. https://doi.org/10.52296/vje.2020.76
License
This work is licensed under a Creative Commons Attribution 4.0 International License.