Topic choice for a STEM lesson with local practice context
How to Cite
Nguyen, C. K. T., Huynh, T. P. T., Dao, H. X., Dinh, L. B. T., Mai, H. T., & Ngo, D. H. (2020). Topic choice for a STEM lesson with local practice context. Vietnam Journal of Education, 4(4), 43–47. https://doi.org/10.52296/vje.2020.79
Abstract
One of the main features of STEM education is to be oriented towards practical activities and knowledge application to solve real-life problems. However, in the first step of deployment, teachers often use copied problem contexts from abroad. There are many difficulties in approaching, creating excitement and motivation for students when it is not close to their real life. The more relevant the topic to the real local context is, the more important it is to motivate students to participate and at the same time make it easy for teachers to find topics for the STEM educational model. In this study, when choosing a topic associated with a real local context, both teachers and students easily reach and achieve goals with the STEM educational model.
Downloads
Download data is not yet available.
References
British Council (2017). Impressive aspects of STEM approach application in Vietnam. Accessed from https://www.britishcouncil.vn/en/programmes/education/science-innovation/success-stories/impressive-aspects-stem-approach-application-vietnam
Do Duc Thai (2017). What could Vietnam learn from STEM?. Accessed from https://dantri.com.vn/giao-duc-khuyen-hoc/viet-nam-hoc-duoc-gi-tu-giao-duc-stem-20170727085028452.htm
Le Xuan Quang (2017). Teaching STEM-oriented general technology. Doctor of Education Science Thesis, Hanoi University of Education.
Ministry of Education and Training (2019a). Developing and implementing STEM education topics in high schools. Training materials (for 15 pilot provinces).
Ministry of Education and Training (2019b). General school education program in new general education program.
Nguyen Chi Thanh, Dang Van Son (2019). STEM education in Vietnam: tools and methods. Accessed from http://hdll.vn/en/thong-tin-ly-luan/giao-duc-stem-tai-viet-nam-cong-cu-va-phuong-thuc.html
Nguyen Thanh Hai (2019). STEM / STEAM education from hands-on experience to creative thinking. Young Publishing House.
Nguyen Thanh Nga (Editor), Phung Viet Hai, Nguyen Quang Linh, Hoang Phuoc Muoi (2017). Design and organize the theme of STEM education for middle and high school students. University Pedagogy Ho Chi Minh City.
Nguyen Van Bien (2015). Natural science integrated topic development process. Journal of Science, Hanoi University of Education, 2(60), 61-66.
Tsupros, N., Kohler, R. & Hallinen, J. (2009). STEM education: a project to identify the missing components. Intermediate Unit 1 and Carnegie Mellon, Pennsylvania.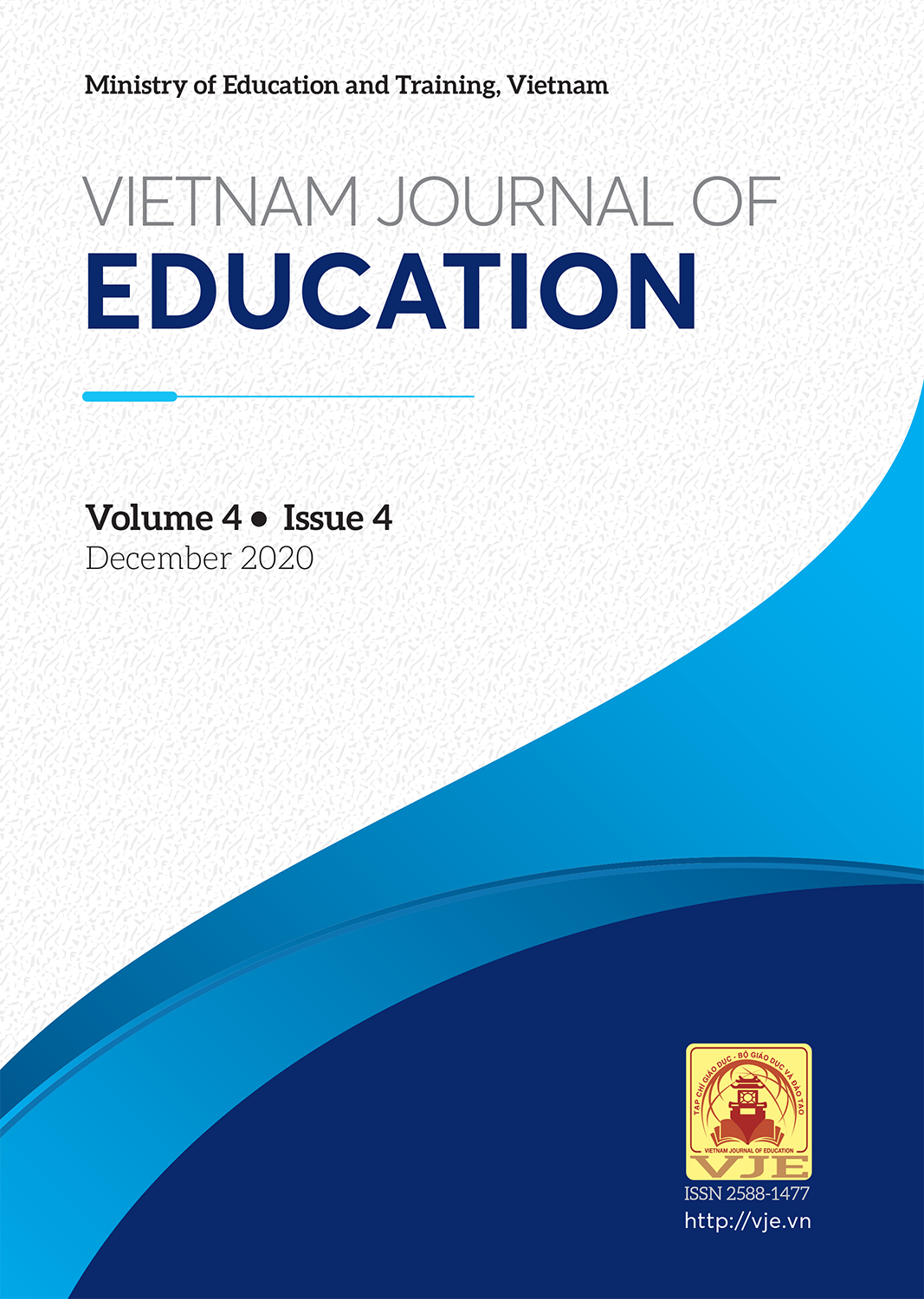 Downloads
How to Cite
Nguyen, C. K. T., Huynh, T. P. T., Dao, H. X., Dinh, L. B. T., Mai, H. T., & Ngo, D. H. (2020). Topic choice for a STEM lesson with local practice context. Vietnam Journal of Education, 4(4), 43–47. https://doi.org/10.52296/vje.2020.79
License
This work is licensed under a Creative Commons Attribution 4.0 International License.