Stemtech model in education 4.0: Designing height measuring instruments in grade 10
How to Cite
Lam, H. M., Dang, H. T., Le, T. N., & Huynh, N. T. (2020). Stemtech model in education 4.0: Designing height measuring instruments in grade 10. Vietnam Journal of Education, 4(4), 48–58. https://doi.org/10.52296/vje.2020.80
Abstract
With the development in the fourth industrial revolution, there have been urgent demands for new human resources in the world. The mission set for the education sector is to prepare students with skills and knowledge in line with global standards to keep up with the industrial age 4.0. Among the educational trends that serve the fourth industrial revolution, STEM education has been demonstrating its superiority through various studies. This study applies the STEMTech model, which connects the fields of Science, Technology, Engineering, and Mathematics with a central technological factor, to create STEM products in the context of high schools in Vietnam recently. Firstly, the research trains students about STEM education, STEMTech model, and some new technologies; then divides the class into multiple groups of students to conduct a project based on STEMTech model; finally, surveys students. Statistical analysis was used to evaluate STEMTech model, whose results show that STEMTech model can engage students in learning, develop their creativity, and promote other competencies.
Downloads
Download data is not yet available.
References
Barron, B. J., Schwartz, D. L., Vye, N. J., Moore, A., Petrosino, A., Zech, L., & Bransford, J. D. (1998). Doing with understanding: Lessons from research on problem-and project-based learning. Journal of the learning sciences, 7(3-4), 271-311.
Basham, J. D., Israel, M. & Maynard, K. (2010). An Ecological Model of STEM Education: Operationalizing STEM for All. Journal of Special Education Technology, 25(3), 9-19.
Berlin, D. F., & White, A. L. (2010). Preservice mathematics and science teachers in an integrated teacher preparation program for grades 7-12: A 3-year study of attitudes and perceptions related to integration. International Journal of Science and Mathematics Education, 8(1), 97-115.
Button, C. E. (2009). Towards carbon neutrality and environmental sustainability at CCSU. International Journal of Sustainability in Higher Education, 10(3), 279-286.
Corlu, M. S. (2014). FeTeMM eğitimi araştırmaları: Alanda merak edilenler, fırsatlar ve beklentiler [STEM education research: Latest trends, opportunities, and expectations]. Turkish Journal of Educational Research, 3(1), 4-10.
Fu, W., Parvin, H., Mahmoudi, M. R., Tuan, B. A., & Pho, K. H. (2020). A linear space adjustment by mapping data into an intermediate space and keeping low-level data structures. Journal of Experimental & Theoretical Artificial Intelligence, 1-21.
Hau, N. H., Tuan, B. A., Jiang, T. T., & Wong, W-K. (2020). Application of assessment in decision sciences: a study on the assessment of students' mathematical achievement in Vietnamese high schools. Journal of Management Information and Decision Sciences, 23(2), 86-111.
Hau, N. H., Tuan, B. A., Thao, T. T. T., & Wong, W-K. (2019). Teaching mathematics by practical decision modeling in Vietnam high schools to serve the fourth industrial revolution. Journal of Management Information and Decision Sciences, 22(4), 444-461.
Katehi, L., Pearson, G., & Feder, M. (2009). National academy of engineering and national research council engineering in K-12 education. Washington, DC: National Academies Press.
Kim, J. (2007). Exploration of STEM education as a new Integrated Education for Technology Education. Korean Journal of Technology Education, 7(3), 1-29.
Klaus, S. (2016). The fourth industrial revolution: what it means, how to respond. Retrieved from https://www.weforum.org/agenda/2016/01/the-fourth-industrial-revolution-what-it-means-and-how-to-respond
Kurtts, S. A., Matthews, C. E., & Smallwood, T. (2009). (Dis) Solving the differences: A physical science lesson using universal design. Intervention in School and Clinic, 44(3), 151-160.
Langley-Turnbaugh, S. J., Wilson, G., & Lovewell, L. (2009). Increasing the accessibility of science for all students. Journal of Science Education for Students with Disabilities, 13(1), 1-8.
Marginson, S., Tytler, R., Freeman, B., & Roberts, K. (2013). STEM: Country comparisons: international comparisons of science, technology, engineering, and mathematics (STEM) education. Final report.
Marino, M. (2010). Defining a technology research agenda for elementary and secondary students with learning and other higher incidence of disabilities in inclusive science classrooms. Journal of Special Education Technology, 25(1), 1-27.
Offer, J., & Mireles, S. V. (2009). Mix it up: Teachers' beliefs on mixing mathematics and science. School Science and Mathematics, 109(3), 146-152.
Ogilve, J. F., & Monagan, M. B. (2007). Teaching mathematics to chemistry students with symbolic computation. Journal of Chemistry Education, 84(2), 889-896.
Ozel, S. (2013). Who, when, and where. In R. M. Capraro, M. M. Capraro & J. Moran (Eds.), STEM Project-based learning: An integrated science technology engineering and mathematics (STEM) approach. Rotterdam, Netherlands: Sense. 41-46.
Schwab, K. (2017). The fourth industrial revolution. World Economic Forum.
Tsupros, N., Kohler, R., & Hallinen, J. (2009). STEM education: A project to identify the missing components. Intermediate Unit 1: Center for STEM Education and Leonard Gelfand Center for Service Learning and Outreach.
Tuan, B. A., Pho, K. H., Huy, L. M., & Wong, W. K. (2019b). STEMTECH model in Asean universities: An empirical research at Can Tho University. Journal of Management Information and Decision Sciences, 22(2), 107-127.
Walker, E. (2007). Rethinking professional development for elementary mathematics teachers. Teacher Education Quarterly, 22(1), 113-134.
Weber, B. A. (2016). The Effectiveness of Participation in a Project-based Learning Project on At-risk Student Self-Efficacy. Dissertations and Theses. Paper 3363. https://doi.org/10.15760/etd.5254
Williams, J. (2011). STEM education: Proceed with caution. Design and Technology Education: An International Journal, 1(16), 26-35.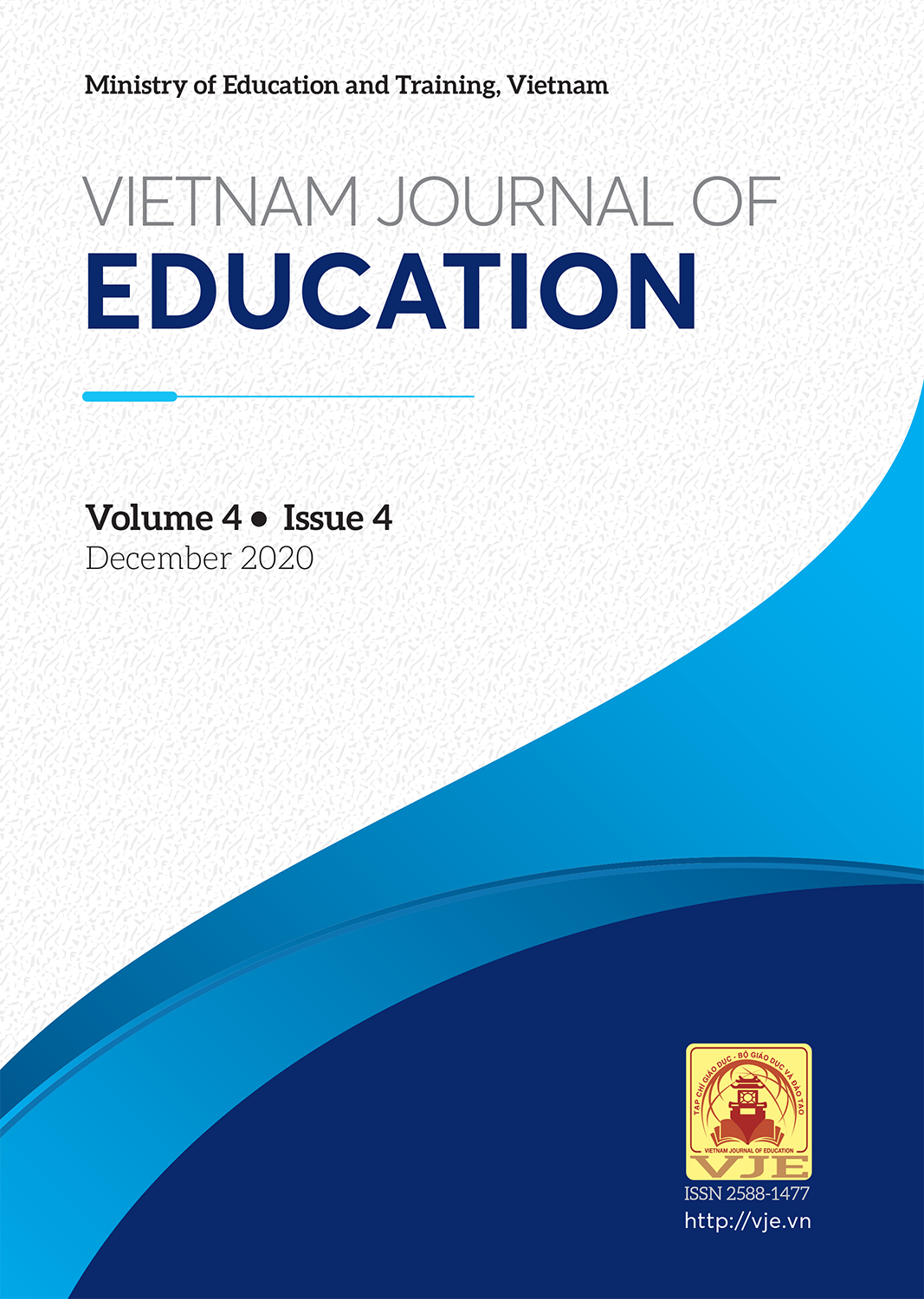 Downloads
How to Cite
Lam, H. M., Dang, H. T., Le, T. N., & Huynh, N. T. (2020). Stemtech model in education 4.0: Designing height measuring instruments in grade 10. Vietnam Journal of Education, 4(4), 48–58. https://doi.org/10.52296/vje.2020.80
Section
Original Articles
License
This work is licensed under a Creative Commons Attribution 4.0 International License.