University Governance in the Context of Vietnam's Educational Innovation
How to Cite
Le, L. C., Co, D. T. M., & Do, T. D. (2021). University Governance in the Context of Vietnam's Educational Innovation. Vietnam Journal of Education, 5(3), 31–42. https://doi.org/10.52296/vje.2021.125
Abstract
University governance brings about the success of a university. Renovation of management in the direction of university governance will exert important influences to improve the training quality of the higher education system. The article presents the theoretical basis and research process related to university governance activities to promote education innovation. The study combined qualitative and quantitative research; the survey sample was 120 people, of which 44 were managers and 76 were lecturers and staff working at Saigon University. The article proposes university governance related to such elements as planning for the development of resources in the university, policy mechanisms, organization and leadership, and monitoring. The article clarifies the relationship between the components of university governance activities in the direction of a system approach to help universities manage their activities towards sustainable university governance.
Downloads
Download data is not yet available.
References
Allan, A. (2012). Managing the process of new and creative change (Nguyen Hong, trd.). Hanoi: National Economics University Publishing House.
Cao, V. (2016). Solutions to increasing autonomy and social responsibility at universities in the current context of educational innovation. University autonomy and social responsibility. Hanoi: Information and Communication Publishing House.
Dinh, X. K. (2019). Governance of public university in the current context. The PhD thesis in the field of Educational Management, Vinh University, 20-40.
Do, T. V. (2014). System theory and application in information systems. Vietnam Library Journal, 5(18), 35-40.
Government of The Socialist Republic of Vietnam (2005). Resolution 14/2005/NQ-CP dated November 2, 2005 on the fundamental and comprehensive education innovation in Viet Nam in the period 2006-2020.
Kezar, A., & Eckel, P. D. (2004). Meeting today's governance challenges: A synthesis of the literature and examination of a future agenda for scholar- ship. Journal of Higher Education, 7(4), 371-399.
Le, C. L. (2021). Proposing a university governance model towards university autonomy. Vietnam Journal of Educational Sciences, 39, 1-6.
Le, C. L., & Do, D. T. (2019). Some university governance solutions approaching the trend of autonomy. Journal of Educational Management Science, 4(24), 43-50.
Ngo, T. M. (2012). Reforms of university governance to upgrade training quality: what Vietnam could learn from the world's realities. International Conference.
Nguyen, D. P., & Nguyen, H. H. N. (2013). University governance and Vietnamese universities of Economy models. Journal of Development and Integration, 18, 1-6.
Pham, T. L. (2009). Building an effective university governance system - American experience. Report at the 53rd International and Comparative Education Conference in Carolina, USA.
Simon, M., & Mark, C. (2000). The Enterprise University: Power, Governance and Reinvention in Australia. Cambridge University Press, 88-98.
The Central Committee of the Communist Party of Vietnam (2013). Resolution No. 29-NQ/TW dated November 4, 2013 on fundamental and comprehensive innovation in education, in response to industrialization and modernization in a socialist-oriented market economy during international integration.
The Politburo of the Central Committee of the Communist Party of Vietnam (2019). Resolution No. 52-NQ/TW dated September 27, 2019 on a number of guidelines and policies for active participation in the industrial revolution 4.0.
The Prime Minister of Vietnam (2017). Directive No.16/CT-TTg dated May 04, 2017 on promoting access to the Industrial Revolution 4.0.
Tran, N. C. (2018). Autonomy and social responsibility related to governance, finance for university education institutions in the context of current education innovation according to the Resolution 29-NQ/TW. Education conference 2018: University education – standardization and international integration, Culture, Education, Youth, Adolescence and Children Committee of National Assembly.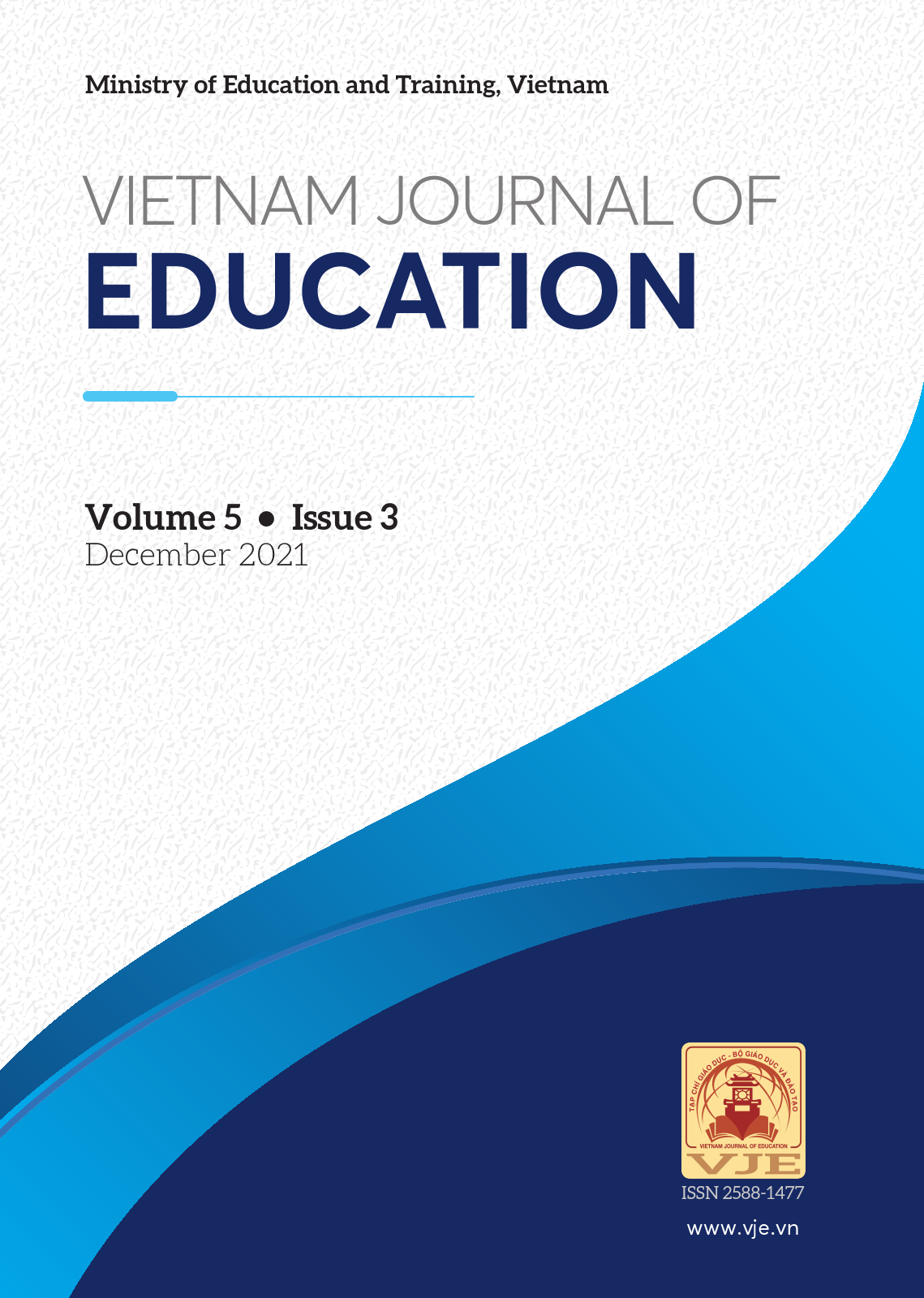 Downloads
How to Cite
Le, L. C., Co, D. T. M., & Do, T. D. (2021). University Governance in the Context of Vietnam's Educational Innovation. Vietnam Journal of Education, 5(3), 31–42. https://doi.org/10.52296/vje.2021.125
Section
Original Articles
License
Copyright (c) 2021 Vietnam Journal of Education
This work is licensed under a Creative Commons Attribution 4.0 International License.