Solutions for Developing University Lecturers' Competences to Meet the Education 4.0 Requirements
How to Cite
Le, L. C., & Co, D. T. M. (2021). Solutions for Developing University Lecturers' Competences to Meet the Education 4.0 Requirements. Vietnam Journal of Education, 5(1), 33–43. https://doi.org/10.52296/vje.2021.30
Abstract
The education 4.0 has been exerting a strong influence on higher education; to respond to our society's needs, lecturers have been required to possess necessary competences. Inclined to the education 4.0, numerous are universities worldwide which have been undertaking innovations in all aspects. This article concerning this challenge will insist on analyzing our university lecturers' teaching methods on which the education 4.0's effect can be seen clearly. Based on the thorough analysis, this article proposes some solutions to developing university lecturers' competences in the process of adapting to education 4.0. These proposed solutions which are well scientifically founded and experimented will display their feasible and indispensable qualities to help our universities develop needed workforce during this rapidly changing era.
Downloads
Download data is not yet available.
References
Andrew J. Morrison (2012). Professional Standards for Lecturers in Scotland's Colleges, Initial Teacher Training/ Education standards for Lecturers in Scotland's colleges. Published by the Scottish Government, March 2012.
Bui Ha Phuong (2019). Building the criteria to evaluate university lecturer competence: methods to upgrade lecturer staff quality in the University of social and human Sciences, National University of Ho Chi Minh City. Development of Sciences and Technology-Social and Human Sciences, 3, 18-24.
Christopher Jepsen (2005). Teacher Characteristics and Student Achievement: Evidence from Teacher Surveys. Journal of Urban Economics, 57, 302-319.
Dang Thanh Hung (2012). Competence and education according to capacity access. Journal of Educational Management, 43, 18-26
Hair, J., Anderson, R., Tatham, R., & Black, W. (1998). Multivariate Data Analysis with Readings. US: Prentice- Hall: Upper Saddle River, NJ, USA.
Hattie, J. (1992). Measuring the Effects of Schooling. Australian Journal of Education, 36, 5-13.
Hoang Sy Tuong (2018). Some solutions to upgrading competence of lecturer staff teaching Vietnam code in the context of Industrial Revolution 4.0. Journal of Education Management, 10(10), 68-74.
Honga, J., Hornga, J., Lin, C., & ChanLin, L (2008). Competency disparity between pre-service teacher education and in-service teaching requirements in Taiwan. International Journal of Educational Development, 28, 4-20.
Kolis, M., & Dunlap, W. P. (2004). The Knowledge of Teaching: the K3P3 Model. Reading Improvement, 41(2), 97-107.
Le Chi Lan & et al (2020). Scientific research influencing the quality of training: A case of public universities in Ho Chi Minh City. Journal of Entrepreneurship Education, 23(4).
Ministry of Education and Training (2018). Circulars of Education Lecturer Career Standards. Accessed from www.moet.gov.vn, on Oct.08.2019.
Nguyen Huu Lam (2018). Developing lecturer competence to improve education and training quality in the globalization conditions. Economy University Ho Chi Minh City.
Nguyen Thi My Loc (2010). Training high-quality teachers in the present era. Science Journal of Hanoi National University, Social Sciences and Humanities, 26, 46-52.
Nguyen Thi Tuyet (2008). "Criteria to assessing lecturers". Science Magazine of Hanoi University, Social and Human Sciences, 24, 131-135.
Nguyen Thu Ha (2014). Teaching and Assessment according to competence in the Education: Some basic theoretical issues. Science Magazine of Hanoi University: Education researches, 30(2), 56-64.
OECD (2005). Teachers Matter: Attracting, Developing and Retaining Effective Teachers - Final Report. Available at http://www.oecd.org/education/school/attracting
Omer Cem Karacaoglu (2008). Determining the Teacher Competencies Required in Turkey in the European Union Harmonization Process. World Applied Sciences Journal, 4 (Supple), 86-94, ISSN 1818-4952.
Plotnikova, N.I (2007). Educational competence in the structure of a distance course in English. Competencies in education: experience design (pp. 123-134). Moscow: Research and Innovation Enterprise "INEC".
Tran Thanh Ai (2014). What to do to develop educational science researching competence. Magazine of Today's Teaching and Studying, 1, 21-25.
Trinh Van Huong (2014). Influence of faculty capacity on student learning activeness. Measurement and evaluation master thesis in Education. Quality Assurance Institute. Ha Noi National University.
Wamala, R., Seruwagi, G. (2013). Teacher Competence and the Academic Achievement of Sixth Grade Students in Uganda. Journal of International Education Research, 9(1), 83-90.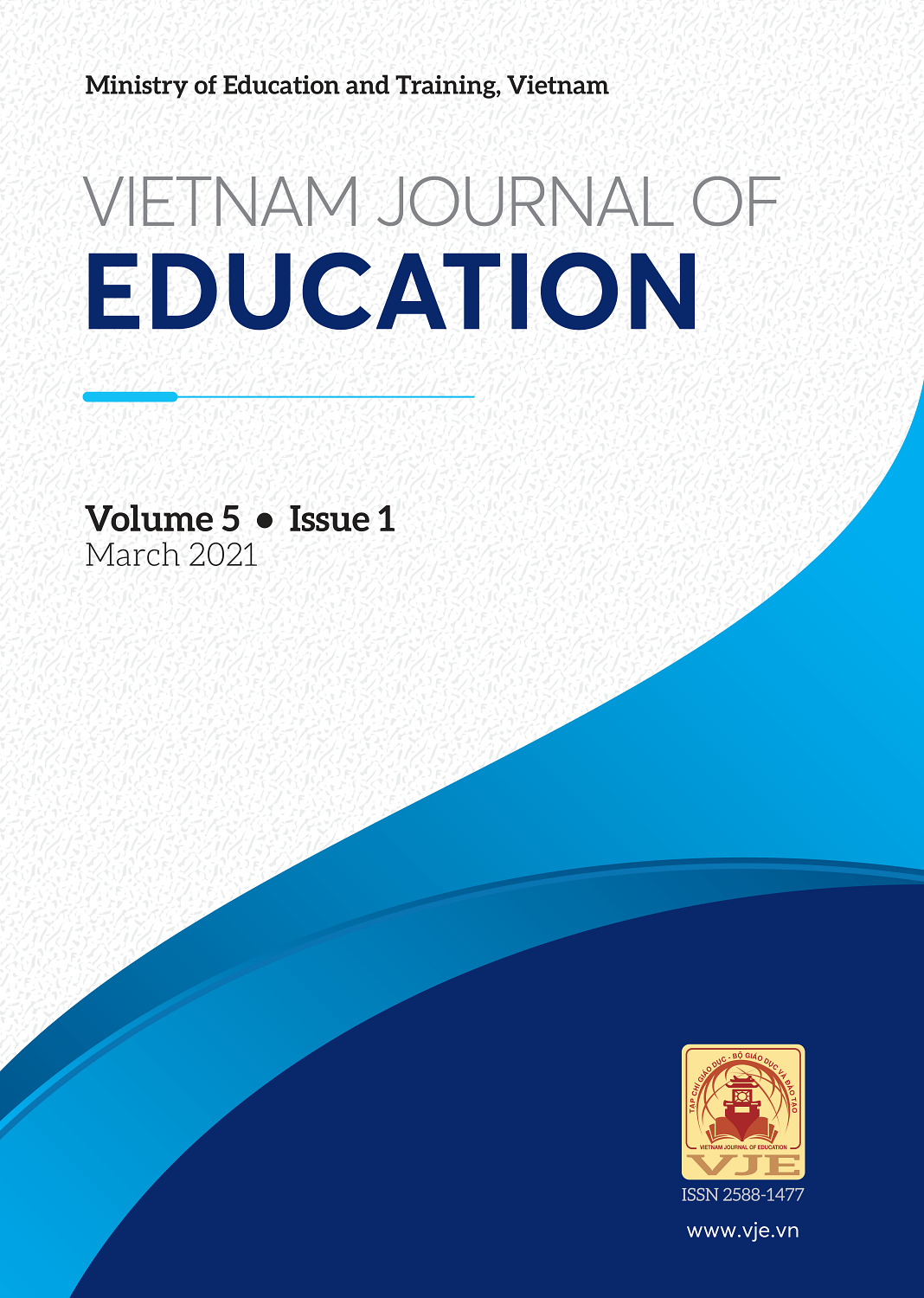 Downloads
How to Cite
Le, L. C., & Co, D. T. M. (2021). Solutions for Developing University Lecturers' Competences to Meet the Education 4.0 Requirements. Vietnam Journal of Education, 5(1), 33–43. https://doi.org/10.52296/vje.2021.30
Section
Original Articles
License
This work is licensed under a Creative Commons Attribution 4.0 International License.