Current Situation of Classroom Management at Primary Schools to Meet the Requirements of the 2018 General Education Curriculum in Vietnam
How to Cite
Vu , H. M. T. (2022). Current Situation of Classroom Management at Primary Schools to Meet the Requirements of the 2018 General Education Curriculum in Vietnam. Vietnam Journal of Education, 6(3), 238–248. https://doi.org/10.52296/vje.2022.170
Abstract
The 2018 General Education Curriculum in Vietnam is a competence-based program in which students actively learn under teacher's guidance. Also, learning activities are very diverse, which requires teachers to manage their classrooms effectively. The study employed questionnaires to collect data from 226 parents and 336 teachers in public and private schools in Vietnam. The research focuses on three main aspects of classroom management (CM) in response to the implementation of the 2018 general education curriculum: Creating classroom environments; Establishing classroom rules; Student behavior management. The research results showed that the participating teachers and parents appreciated the surveyed activities in classroom management. Creating environments and establishing rules form the basis for student behavior standards. Therefore, both the teachers and parents quite agreed to promote these two activities for primary students. However, the parent's support was lower than the teacher's, especially in managing student behavior. In order to manage the school, it is essential to involve all stakeholders, including a close relationship between teachers and parents.
Downloads
Download data is not yet available.
References
Brophy, J. (1988). Educating teachers about managing classrooms and students. Teaching and Teacher Education, 4(1), 1-18. https://doi.org/10.1016/0742-051X(88)90020-0
Brophy, J., & McCaslin, M. (1992). Teachers' reports of how they perceive and cope with problem students. Elementary School Journal, 93(1), 3-68.
Brown, D. F. (2004). Urban Teachers' Professed Classroom Management Strategies. Urban Education, 39(3), 266-289. https://doi.org/10.1177/0042085904263258
Chandra, R. (2015). Classroom Management for Effective Teaching. International Journal of Education and Psychological Research (IJEPR), 4(4), 13-15.
Cheng, Y. H., & Chen, Y. C. (2018). Enhancing classroom management through parental involvement by using social networking apps. South African Journal of Education, 38(2), 1-14. https://doi.org/10.15700/saje.v38ns2a1427
Emmer, E. T., & Evertson, C. M. (2012). Teach a book: Classroom management for middle and high school teachers. Amazon. http://www.amazon.com/classroom management-middle-teachers-edition
Emmer, E. T., & Stough, L. M. (2001). Classroom Management: A Critical Part of Educational Psychology with Implications for Teacher Education. Educational Psychologist, 36(2), 103-112. https://doi.org/10.1207/s15326985ep3602_5
Gay, G. (2006). Connections between classroom management and culturally responsive teaching. In C. M. Evertson & C. S. Weinstein (Eds.), Handbook of classroom management: Research, practice, and contemporary issues (pp. 3-16). Mahwah, NJ: Lawrence Erlbaum Associates.
Kellough, R. D., & Kellough, N. G. (2011). Secondary School Teaching: a guide to methods and resources. California: Pearson.
Korpershoek, H., Harms, T., de Boer, H., van Kuijk, M., & Doolaard, S. (2014). Effective classroom management strategies and classroom management programs for educational practice.
Kurti, E. (2016). Classroom Management. European Journal of Multidisciplinary Studies, 1(1), 201-210. https://doi.org/10.26417/ejms.v1i1.p201-210
Marzano, R. J., Marzano, J. S., & Pickering, D. J. (2003). Classroom management that works: Research-based strategies for every teacher. Virginia: Association for Supervision and Curriculum Development.
McLeod, J., Fisher, J., & Hoover, G. (2003). The key elements of classroom management (Managing time and space, student behavior, and instructional strategies. Virginia: Association for Supervision and Curriculum Development.
MOET (2018). Circular No. 32/2018/TT-BGDDT dated December 26, 2018 on promulgating general education curriculum.
Oliver, R. M., & Reschly, D. J. (2007). Effective Classroom Management: Teacher Preparation and Professional Development. TQ Connection Issue Paper on Improving Student Outcomes in General and Special Education, 1-19.
Rahman, F., Jumani, N. B., Basit, A., Chishti, S. H., & Ajmal, M. (2010). Let the Teacher Manage the Challenge of Classroom Management. International Journal of Business and Social Science, 1(1), 96-105.
Rijal, C. P. (2015). Classroom Management in Schools. Journal of NELTA Surkhet, 4, 48-56. https://doi.org/10.3126/jns.v4i0.12860
Vairamidou, A., & Stravakou, P. (2019). Classroom Management in Primary and Secondary Education Literature Review. Journal of Education and Human development, 8(2). https://doi.org/10.15640/jehd.v8n2a7
Walters, J., & Frei, S. (2007). Managing classroom behavior and discipline. Shell Education.
Wong, H., & Wong, R. (2014). The classroom management book. Mountain View, CA: Harry K. Wong Publications Inc.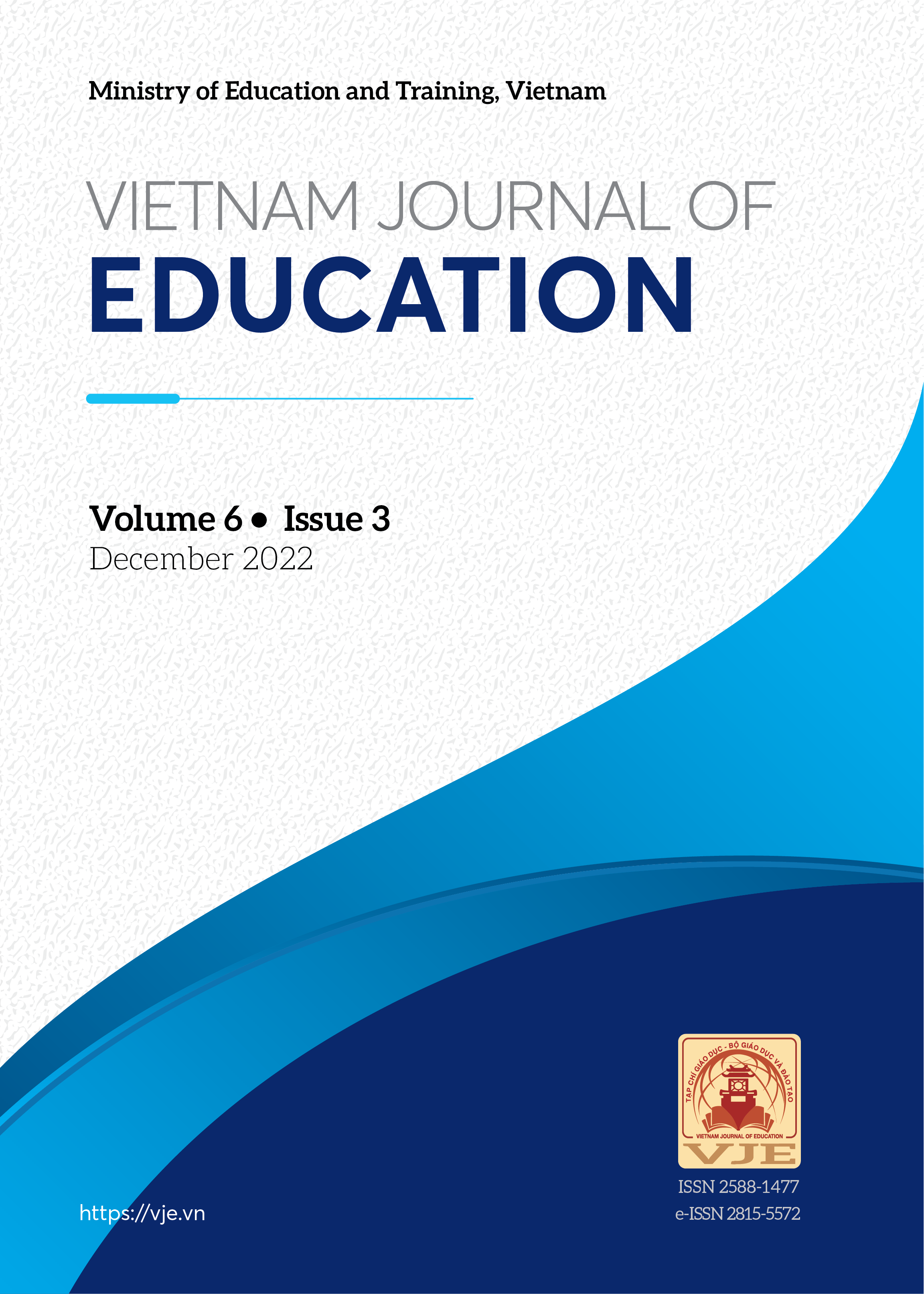 Downloads
How to Cite
Vu , H. M. T. (2022). Current Situation of Classroom Management at Primary Schools to Meet the Requirements of the 2018 General Education Curriculum in Vietnam. Vietnam Journal of Education, 6(3), 238–248. https://doi.org/10.52296/vje.2022.170
License
Copyright (c) 2022 Vietnam Journal of Education
This work is licensed under a Creative Commons Attribution 4.0 International License.