Determining characteristics of teachers, students and educational managers in the 4.0 educational context
How to Cite
Cuong, V. T., & Le, Q. H. (2020). Determining characteristics of teachers, students and educational managers in the 4.0 educational context . Vietnam Journal of Education, 4(4), 16–21. https://doi.org/10.52296/vje.2020.75
Abstract
The objective of the study is to identify the characteristics of school administrators, teachers, and students in the 4.0 educational context. The study used research method from a qualitative perspective, using a basic qualitative research model. The study participants consisted of 10 lecturers selected according to the snowball method. The study data were collected through a semi-structured interview. Content analysis techniques will be used to analyze the data. We hope that the Education 4.0 revolution can be realized in Vietnamese education system. As a result, open access, personal education, idea transformation, digital integration into education, open learning environments, lifelong learning, discovery education, and multidisciplinary education are the main components of educations 4.0. It has been found that the key qualities expected from the students of Education 4.0 are interpersonal skills, technology skills, study skills, and personal style. The main qualities expected from the teachers in educations 4.0 are technology skills, instructional skills, lifelong learning skills, and personal style. Finally, the main qualities expected from school administrators in Education 4.0 are instructional skills, technology skills, learning skills.
Downloads
Download data is not yet available.
References
Assante, D., Caforio, A., Flamini, M., Romano, E. (2019). Smart Education in the context of Industry 4.0. 2019 IEEE Global Engineering Education Conference (EDUCON), Dubai, United Arab Emirates, 2019, pp. 1140-1145, doi: 10.1109/EDUCON.2019.8725057.
Bass BM, Avolio BJ (1990). Developing transformational leadership: 1992 and beyond. J. Eur. Industrial Train. 14:21-27.
Blinder, A. P. (2006). Offshoring: The next industrial revolution?. Foreign Affairs, 85(2), 113-128.
Bloem, J., Van Doorn, M., Duivestein, P., Excoffier, D., Maas, R. & Van Ommeren, E. (2014). The fourth industrial revolution. Things to tighten the link between IT and OT. SOGETI: VINT Research Report 3 of 4.
Ciolacu, M., Tehrani, A. F., Beer, R., Popp, H. (2017). Education 4.0 - Fostering student's performance with machine learning methods. IEEE 23rd International Symposium for Design and Technology in Electronic Packaging (SIITME), Constanta, pp. 438-443, doi: 10.1109/SIITME.2017.8259941
Hussin, Sufean., Al Abri, Saleh. (2015). Professional Development Needs of School Principals in the Context of Educational Reform. International Journal of Educational Administration and Policy Studies, 7(4), 90-97.
Jompong Mongkolvanich (2013). Organization and educational personnel management (2nd ed.). Bangkok: Chulalongkorn University.
Nafea, R. M., & Toplu, E. K. (2020). Future of Education in Industry 4.0: Educational Digitization - A Canadian Case Study. In Özbebek Tunç, A., & Aslan, P. (Ed.), Business Management and Communication Perspectives in Industry 4.0 (pp. 267-287). IGI Global. http://doi:10.4018/978-1-5225-9416-1.ch015
Puncreobutr, V. (2016). Education 4.0: New challenge of learning. Theresa Journal of Humanities and Social Sciences, 2(2), 92-97.
Schuster K., Groß K., Vossen R., Richert A., Jeschke S. (2016). Preparing for Industry 4.0 - Collaborative Virtual Learning Environments in Engineering Education. In: Frerich S. et al. (eds) Engineering Education 4.0. Springer, Cham. https://doi.org/10.1007/978-3-319-46916-4_36
World Economic Forum (2017). ASEAN 4.0: What does the Fourth Industrial Revolution mean for regional economic integration?. https://www.adb.org
Riveros, A. (2012). Beyond Collaboration: Embodied Teacher Learning and the Discourse of Collaboration in Education Reform. Stud Philos Educ, 31, 603-612. https://doi.org/10.1007/s11217-012-9323-6
Irianto, D. (2017). Industry 4.0; The Challenges of Tomorrow. Presented at Seminar Nasional Teknik Industri, Batu-Malang.
Laura Krefting (1991). Rigor in Qualitative Research: The Assessment of Trustworthiness. American Journal of Occupational Therapy, 45, 214-222. https://doi.org/10.5014/ajot.45.3.214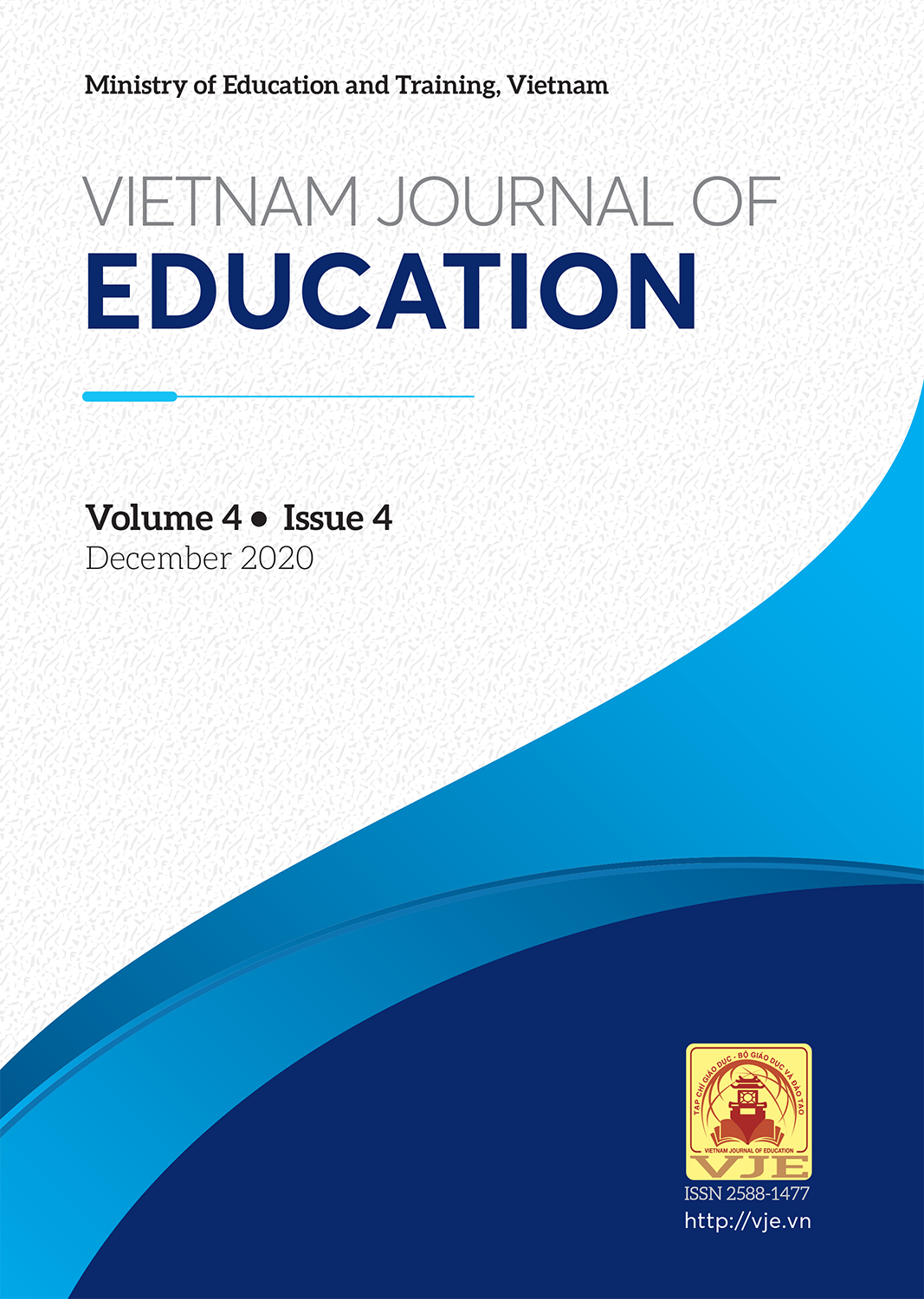 Downloads
How to Cite
Cuong, V. T., & Le, Q. H. (2020). Determining characteristics of teachers, students and educational managers in the 4.0 educational context . Vietnam Journal of Education, 4(4), 16–21. https://doi.org/10.52296/vje.2020.75
License
Copyright (c) 2020 Vietnam Journal of Education
This work is licensed under a Creative Commons Attribution 4.0 International License.