Using Seesaw Application in Improving English Speaking Skills: the Case of an International Middle School
How to Cite
Le, H. H. (2022). Using Seesaw Application in Improving English Speaking Skills: the Case of an International Middle School. Vietnam Journal of Education, 6(2), 137–149. https://doi.org/10.52296/vje.2022.152
Abstract
This study is designed to identify factors affecting the 6th grade Korean students' English speaking learning as well as the difficulties they encountered and then investigate the impacts of SeeSaw on speaking skills at an international middle school in Hanoi. In this study, the students' improvements on speaking skills were measured by a pre-test and a post-test after the intervention. In order to address the factors causing the students' difficulties in speaking, their learning motivation, interactions with teachers, peers and parents, and attitudes towards SeeSaw, 20 post-intervention questionnaires were delivered to the 20 students belonging to the experimental group. The questionnaire result analysis with SPSS also provided qualitative data on the social well-being of the Korean students. Furthermore, qualitative data taken from the interview with some random respondents were used to make the results obtained from the questionnaires clearer and more reliable. The study results revealed the students' difficulties in learning English speaking skills and some enhancement in their speaking skills. It can be concluded that SeeSaw is a useful tool for the teaching and learning English speaking skills.
Downloads
Download data is not yet available.
References
Bosch, S., Bosch, N., Takekawa, E., Walther, T., Rieland, A., Hochhalter, S., & Cline, K. (2017). The effects of parent-teacher communication using digital tools in early elementary and middle school classrooms. Sophia, the St. Catherine University. https://sophia.stkate.edu/maed/231
Brown, G., & Yule, G. (1983). Teaching the Spoken Language. Cambridge: Cambridge University Press.
Catalano, G. D. (1997). Transformation: from teacher-centered to student-centered engineering education. Proceedings Frontiers in Education 1997 27th Annual Conference. Teaching and Learning in an Era of Change. https://doi.org/10.1109/fie.1997.644819
Chaney, A. L., & Burke, T. L. (1998). Teaching Oral Communication in Grades K-8. Boston: Allyn and Bacon.
Malihah, Noor. (2010). The effectiveness of speaking instruction through taskbased language teaching. Register Journal, 3(1), 85-101. https://doi.org/10.18326/rgt.v3i1.1152
Nur, M. R. O., & Riadil, I. G. (2019). Seesaw Media: Digital Natives' Preference in 4.0 Speaking Learning Class. 3rd English Language and Literature International Conference (ELLiC) Proceedings.
Okarina, P. S. (2019). The teacher's perspectives towards the literacy program developed at a bilingual school. Yavana Bhāshā: Journal of English Language Education, 2(1), 103-120. http://dx.doi.org/10.25078/yb.v2i1.995
Rakangthong, S., & Yimwilai, S. (2020). The Effects of Using Digital Game Resources to Enhance EFL Students' English Vocabulary Knowledge at Phimanphitthayasan School, Satun, Thailand. Proceedings of RSU International Research Conference 2020, 1114-1124. https://doi.org/10.14458/RSU.res.2020.199
Toner, R. (2017). The Relationship Between Digital Portfolio Use, Parent-Teacher Communication, and its Effect on Home-Based Parental Involvement in Middle School. University of Maine at Farmington.
Ur, P. (1996). A Course in Language Teaching. Practice and Theory. Cambridge: Cambridge University Press.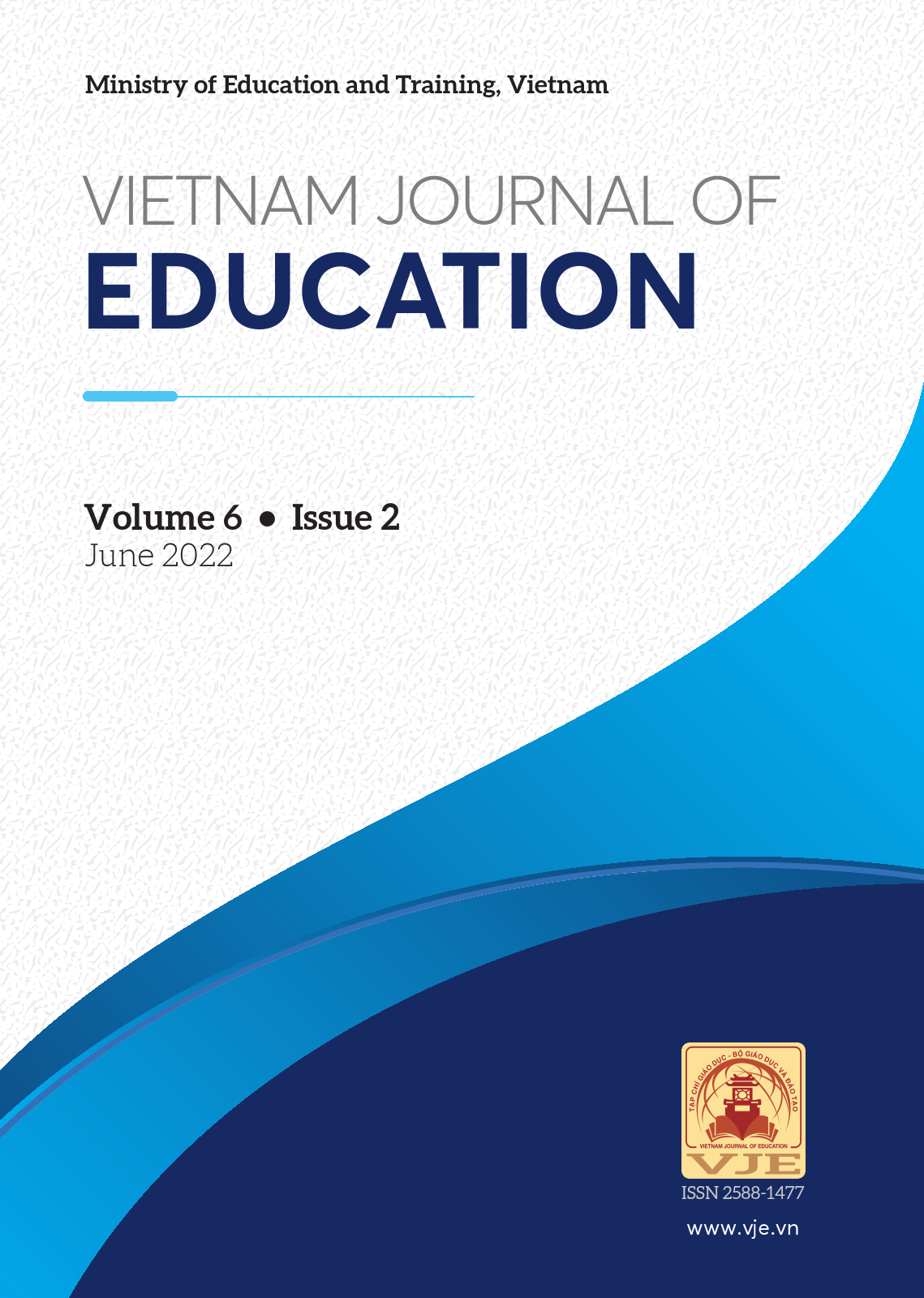 Downloads
How to Cite
Le, H. H. (2022). Using Seesaw Application in Improving English Speaking Skills: the Case of an International Middle School. Vietnam Journal of Education, 6(2), 137–149. https://doi.org/10.52296/vje.2022.152
Section
Original Articles
License
Copyright (c) 2022 Vietnam Journal of Education
This work is licensed under a Creative Commons Attribution 4.0 International License.