Using blended learning model in improving self-study competence in Physics subject of high school students
How to Cite
Nguyen, N. T. L., Le, H. T. T., Nguyen, N. T., & Dang, T. M. (2020). Using blended learning model in improving self-study competence in Physics subject of high school students. Vietnam Journal of Education, 4(1), 53–60. https://doi.org/10.52296/vje.2020.8
Abstract
The paper presents results from research on improving self-study competence of students in Blended Learning model in teaching Physics in high school. The research results are conducted through the design of E-learning system for Physics teaching, propose measures to improve the ability of self-studying Physics for general students according to the blended learning model. Experiment was carried out with 255 high school students in Quang Tri province. The article shows that the blended learning model is perfectly suitable for improving self-study competence for students, contributing to improving the quality of teaching Physics.
Downloads
Download data is not yet available.
References
Allan, B. (2018). E-learning and blended learning. In The No-Nonsense Guide to Training in Libraries (pp. 133-150). https://doi.org/10.29085/9781856049634.007
Alqarni, A. (2018). Blended Learning and Flipped Classroom Approaches. American Research Journal of Humanities and Social Sciences, 4(1), 1-6. https://doi.org/10.21694/2378-7031.18012
Barry J. Zimmerman. (1990). Goal Setting and Self-Efficacy During Self-Regulated Learning. Educational Psychologist, 25(1), 3-17. https://doi.org/10.1207/s15326985ep2501
Jang, J. S. R. (1992). Self-Learning Fuzzy Controllers Based on Temporal Back Propagation. IEEE Transactions on Neural Networks, 3(5), 714-723. https://doi.org/10.1109/72.159060
Le Hien Duong (2010). Forming and developing self-studying capacity for junior college Maths students. Vinh University.
Le Thanh Huy & Nguyen Thi Bich Hoa (2018). Fostering self-study ability for students with the help of computers through classroom teaching "Light quantum" (Physics 12). Journal of Education, Special Vol. (6), 182-188.
Luong Viet Manh (2015). Forming and developing self-studying capacity for students in teaching Physics at Ethnic Preparatory School. Vinh University.
Nguyen Van Hien (2016). Developing self-study capacity for pedagogical students through E-learning. Science Magazine of Ho Chi Minh City University of Education, 4 (82), 9-13. Retrieved from http://hvtc.edu.vn/tabid/558/catid/
/id/18355/Mot-so-giai-phap-de-phat-trien-van-hoa-doc-cho-sinh-vien-cac-truong-dai-hoc/Default.aspx
Setyaningrum, W. (2019). Self-regulated learning in blended learning approach. Journal of Physics: Conference Series, 1320, 012089. https://doi.org/10.1088/1742-6596/1320/1/012089
Tran Duc Khoan (2016). Building and using self-guided learning materials according to the module "Electricity" in General Physics contributes to fostering self-study capacity for technical university students.
Vinh University.
Tran Trung & Nguyen Van Hong (2011). Application of information technology to teaching mathematics in high schools. Vietnam Communication Publishing House.
Trinh Quoc Lap (2003). Self-Studying in Vietnam. Journal of Science, Can Tho University, 169-175.
Trinh Thi Phuong Thao (2015). Exploiting a number of mobile applications to support student grade 12 to study Math by themselves. Vietnam Academy of Educational Sciences.
Welker, J., & Berardino, L. (2005). Blended Learning: Understanding the Middle Ground between Traditional Classroom and Fully Online Instruction. Journal of Educational Technology Systems, 34(1), 33-55. https://doi.org/10.2190/67fx-b7p8-pyux-tdup
Yang, H. H., MacLeod, J., Yang, H. H., & MacLeod, J. (2019). Blended Learning in Teacher Education. Oxford Research Encyclopedia of Education. https://doi.org/10.1093/acrefore/9780190264093.013.276
Yoda, H., Miyatake, T., & Matsushima, H. (1991). A kinematic model with a self‐learning capability of a series of motions based on instinctive incentive. Systems and Computers in Japan, 22(6), 77-86. https://doi.org/10.1002/scj.4690220608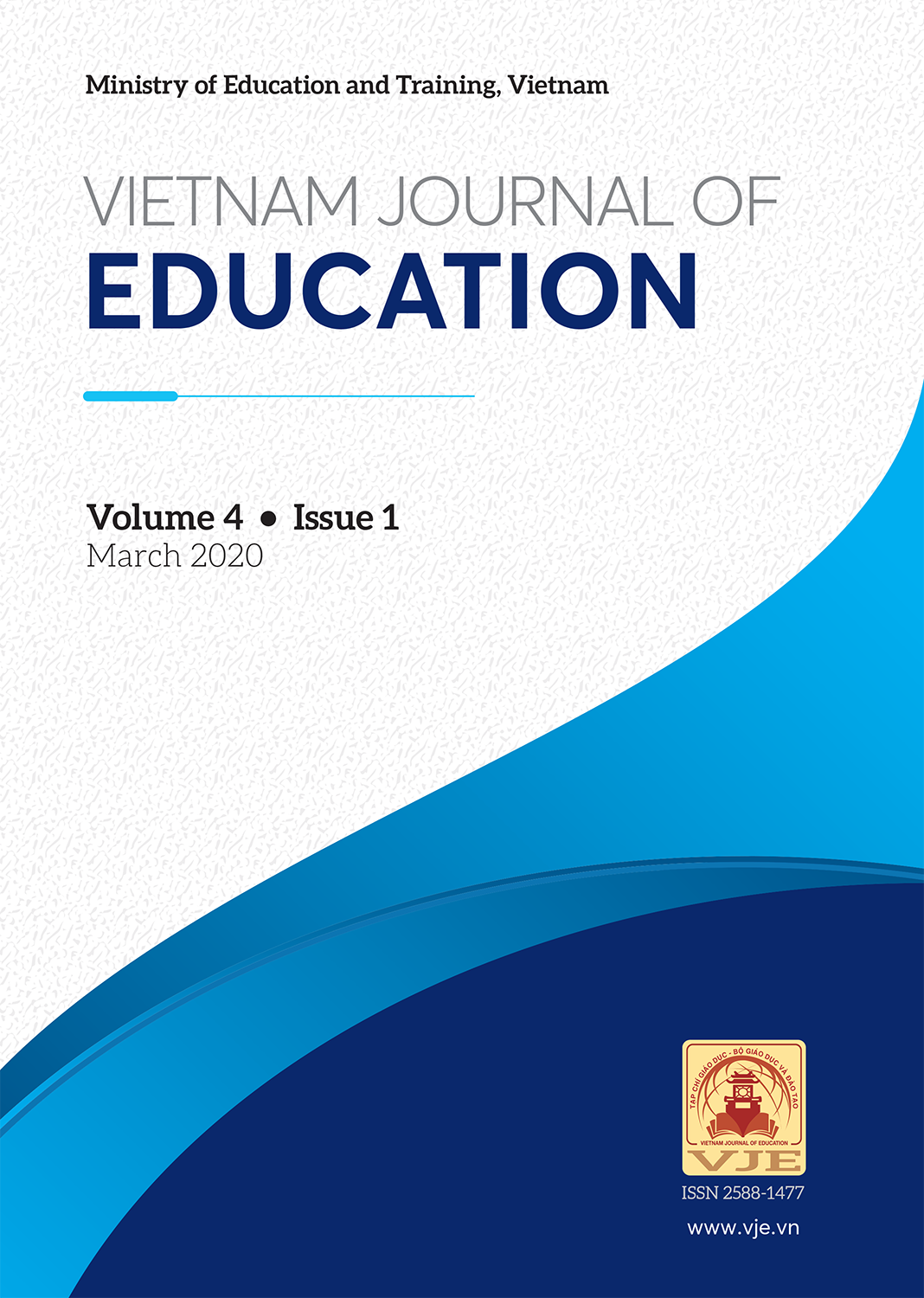 Downloads
How to Cite
Nguyen, N. T. L., Le, H. T. T., Nguyen, N. T., & Dang, T. M. (2020). Using blended learning model in improving self-study competence in Physics subject of high school students. Vietnam Journal of Education, 4(1), 53–60. https://doi.org/10.52296/vje.2020.8
License
This work is licensed under a Creative Commons Attribution 4.0 International License.